Alonso: performance now the priority for Ferrari in F1 2014 testing
| | |
| --- | --- |
| By Glenn Freeman | Friday, February 28th 2014, 16:08 GMT |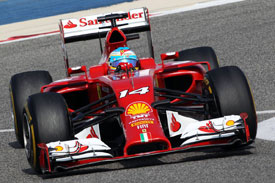 Fernando Alonso believes that Ferrari should prioritise improving the performance of its F14 T during the final two days of Formula 1 pre-season testing before the Australian Grand Prix.
The Spaniard had a busy day in the car as he worked on set-up options in the morning and then completed a race run in the afternoon, bringing his total for the day up to 122 laps.
Alonso and team-mate Kimi Raikkonen have one more day of testing each before the first race of the season, and despite the laptimes on his race run catching the eye of some rival teams, the two-time world champion believes that Ferrari is not quite ready.

Ferrari: Prancing or limping horse?
"We still have two more days that are crucial for us in terms of performance," Alonso told reporters in the Sakhir paddock.
"We really need to exploit the potential of the car. Tomorrow with Kimi and then on the last day we need to...we must have a smooth test and good days to arrive in Australia at 100 per cent.
"I think right now we are missing something."
Alonso tried to play down the significance of his race run, saying that while he was able to complete the 57-lap distance without interruption, he was having to manage a lot of issues with the car.
"It was OK, we could have had a better one," he said. "We still had some issues during the laps.
"We tried to compensate with some changes that you can do on the steering wheel to play a little bit.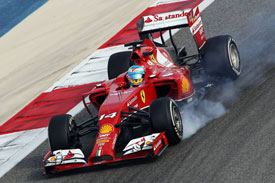 "On the other hand, we completed the laps without stopping in the garage and the car was running all the time, so I'm happy overall with the day."
While Alonso wants to see more performance from his car, after he "found one setup that did work and two things that didn't", he believes that his and Ferrari's mileage so far leaves him in a good position.
"On that side [mileage-wise] I'm happy with the position we are in," he said.
"I don't know how we are in total laps for this winter but we will be one of the best teams and I am one of the drivers with the most laps.
"That puts me in a position of advantage at the moment and hopefully I can use that as an advantage to arrive in Australia a little more ready."