Renault will take conservative approach to start of 2014 F1 season
| | |
| --- | --- |
| By Jonathan Noble | Monday, January 27th 2014, 13:28 GMT |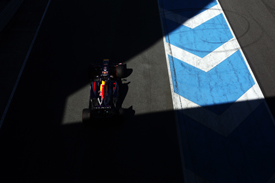 Renault is to take a conservative approach with its new engine at the start of the 2014 Formula 1 season to guarantee reliability.
Ahead of the first pre-season test at Jerez, Renault engine chief Rob White says the French firm, which supplies champion team Red Bull plus Lotus and Caterham, has made compromises because not finishing the early races could prove costly.
Rivals Ferrari and Mercedes have already both admitted that reliability will decide the title.

Analysis: How 2014 pre-season testing will be different
"You find you have to make a different priority decision," White told AUTOSPORT. "You have to absolutely assure that you get to where you are going, and you have to accept some compromises.
"You have to make some of the choices without having all the information that you would like to make those choices, which means you have to take a slightly different approach in managing the risks.
"So you take a slightly more conservative approach than you would do. And, as we speak, the jury is still out in whether those choices are good ones or poor ones."
ENGINE UPDATES BEFORE MELBOURNE
White says that Renault has plans to introduce engine upgrades before the first race - and significant changes could take place depending on what is learned in Spain this week.
"We will be in first test guise," he said. "It is close to first race guise, but not exactly the same.
"We have some stuff that is a work in progress, and that will be delivered between the first test and the first race. There are also parts which are in place that need to be finally checked out in the car.

F1 2014 tech guide: The all-new turbo V6s
"But there is still quite a lot of learning to do, and I think that will come through in the way in which the test sessions pan out.
"I am absolutely convinced that it is going to be very much about rehearsing the race events; rehearsing everything we need to do with the new toolkit, the new cars, in order to be ready to go racing in Melbourne."
He admitted that the approach of the first tests and race had meant a switch in priorities.
"We've passed some significant milestones, and not quite done everything that we would have ideally liked to do," said White.
"But there comes a time when you swap from the mode in which you are doing as much as you can to learn as much as you can as quickly as you can, to counting backwards from the first important event.
"You work out what is necessary and you rejig the planning in order to make sure that everything that needs to be done fits into the available time."
Follow the Jerez F1 test as it happens with AUTOSPORT Live from Tuesday.