Nissan unveils petrol engine for ZEOD RC Le Mans 24 Hours car
| | |
| --- | --- |
| By Gary Watkins | Monday, January 27th 2014, 13:00 GMT |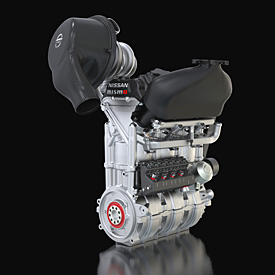 The petrol engine that will form part of the powertrain of the Nissan ZEOD RC Le Mans 24 Hours racer will fit into the overhead locker on a airliner.
The Japanese manufacturer has confirmed that the bespoke engine in the ZEOD, which will take the Garage 56 spot at Le Mans reserved for an experimental machine, is a 1.5-litre three-cylinder direct-injection turbo.
The 400bhp Nissan DIG-T R engine weighs just 40kg and at just 500mm tall and 400mm long would easily fit the hand-luggage size guides for most major airlines.
Nissan global motorsport director Darren Cox said: "Downsizing is very important in the automotive industry; we already have three-cylinder engines in our range and there are more coming.
"This is the first time that this configuration has been used at the top-level of motorsport, but that is because we are pushing the boundaries in terms of light weighting.
"There are a lot of expensive materials in there and the crankshaft is a work of art. The engine is a stunning piece of engineering."

At the wheel of the Nissan ZEOD
Cox stressed that the engine had been developed by globally in the same way at the ZEOD's chassis, but said that elements of that development had taken place in the UK.
The ZEOD ran for the first time in petrol-electric configuration last week at the Bruntingthorpe proving ground in the UK. Cox explained that a further 20 days of testing are planned for around Europe in the run-up to Le Mans on June 14/15.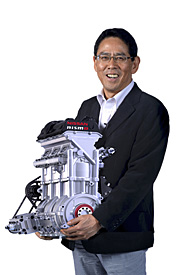 Cox would not reveal the name of the driver, but stated that it wasn't nominated ZEOD tester Lucas Ordonez for scheduling reasons.
The ZEOD - which stands for zero emissions on demand - has been designed to complete one lap of the 8.47-mile Circuit de la Sarthe purely on electric power during each stint between refueling stops.
The car will not work as a conventional hybrid.
Instead, retrieved energy will only be returned to the track during the one fully-electric lap each stint, during which the ZEOD should hit 300km/h (186mph) on the Mulsanne Straight.
Nissan has revealed a technical partnership with oil company Total to develop new lubricants for the new lightweight engine.