Briscoe joins Ganassi IndyCar line-up, Kanaan gets Franchitti's #10
| | |
| --- | --- |
| By Mark Glendenning | Friday, December 13th 2013, 16:16 GMT |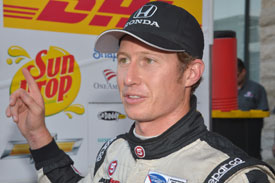 Ryan Briscoe has signed a multi-year deal to return to Chip Ganassi Racing's IndyCar line-up from 2014, while Tony Kanaan will step into the #10 car previously occupied by Dario Franchitti.
Kanaan had originally been signed to drive the team's #8 car alongside Charlie Kimball, but will now run alongside Scott Dixon in the Target entry that Dario Franchitti drove to three of his four series titles, and two of his three Indianapolis 500 wins.
"I'm extremely excited, but this is a very bittersweet day for me as many of you know," said Kanaan, whose move from KV Racing to Ganassi was announced in October.
"On one hand I'm driving for the Target Team and couldn't be more thrilled about the possibilities for next season.
"On the other hand I'm taking over the seat my good friend Dario had to leave.
"I was looking forward to reuniting with him more than anything as a team-mate."
Briscoe spent his first IndyCar season with Ganassi in 2005 (which ended prematurely with the crash below), and made brief return to the team in a fourth car at this year's Indy 500.
The Australian, who raced sportscars full-time in 2013 in addition to occasional IndyCar appearances with Panther Racing, said that he was excited by the opportunity to work with Ganassi again.
"This is just great news and I can't wait to get back behind the wheel of the No. 8 car again," he said.
"We built some great chemistry during the month of May this year with the whole crew. I think all four drivers can win races next season and it's not every day you get to be a part of a team like that.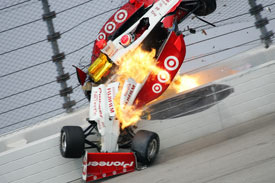 "For me personally it's been an amazing last few days - this announcement coupled with the birth of our first child just a few days back. I couldn't be happier right now."
Briscoe's entry will be backed by NTT Data, which also supported his Indy appearance, and which was originally slated to back Kanaan's entry in 2013.
Team owner Chip Ganassi said that co-operation from the respective entry's sponsors had been key to organising his driver-line-up.
"It is always refreshing when you have partners that get the big picture, and both Target and NTT DATA both understand that," Ganassi said.
"This is the best of both worlds. We not only get the driver that we wanted to add to our team in Ryan Briscoe, but in addition we are able to put them in the cars that I felt were the most appropriate.
"The news couldn't really be better for all of our teams."
AUTOSPORT SAYS
Mark Glendenning, AUTOSPORT US Editor (@m_glendenning)
Promoting Tony Kanaan onto Ganassi's front line alongside Scott Dixon and recruiting Ryan Briscoe to fill the gap might not look like the marquee move that many expected when one of the best teams in the US had to replace one of the best drivers in IndyCar history.
But the fact is that Dario Franchitti is not easy to replace.
Ganassi needed somebody capable of winning races immediately, and in Kanaan they have the current Indy 500 champion.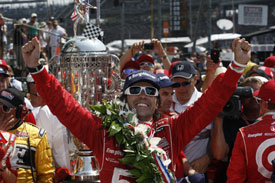 Almost as important as speed, though, are the intangibles, such as the rare degree of openness and trust that existed between Franchitti and Dixon.
Over the course of a full season TK might not have quite as sharp an edge as Franchitti did, but he does understand the team culture that Ganassi will expect him to fit into, and that is worth an awful lot.
Many Formula 1 fans assumed that a Paul di Resta-type character might have been a walk-up start for the drive, but this relies on the mistaken assumption that all F1 drivers are automatically better than everyone else.
If F1 skills were so easily transferrable then Rubens Barrichello wouldn't have struggled so much in 2012, and there's nothing in di Resta's recent history to suggest that he'd have fitted in any better.
2014 IndyCar line-up so far:

AJ Foyt Racing (Honda)
Tba

Andretti Autosport (Honda)
Marco Andretti/Carlos Munoz/James Hinchcliffe/Ryan Hunter-Reay

Bryan Herta Autosport (Honda)
Tba

Chip Ganassi Racing (Chevy)
Scott Dixon/Tony Kanaan/Ryan Briscoe/Charlie Kimball

Dale Coyne Racing (Honda)
Tba/tba

Ed Carpenter Racing (Chevy)
Ed Carpenter (ovals)/Mike Conway (road/street)

KV Racing (Chevy)
Sebastien Bourdais/tba

Panther Racing (Chevy)
Tba

Rahal Letterman Racing (Honda)
Graham Rahal/tba

Sarah Fisher Hartman (Honda)
Josef Newgarden

Schmidt Peterson (Honda)
Mikhail Aleshin/Simon Pagenaud

Team Penske (Chevy)
Juan Pablo Montoya/Helio Castroneves/Will Power