Brazilian GP: Bottas sure he did nothing wrong in Hamilton crash
| | |
| --- | --- |
| By Edd Straw and Matt Beer | Sunday, November 24th 2013, 20:55 GMT |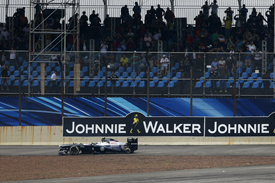 Valtteri Bottas is confident he did nothing wrong in his Brazilian Grand Prix collision with Lewis Hamilton.
Bottas was attempting to un-lap himself from Hamilton's Mercedes down the outside when they came together on the approach to the Descida do Lago.
The stewards ruled that Hamilton had caused an avoidable collision by not leaving the Williams sufficient room, although Hamilton declared himself baffled by the incident and penalty.
Bottas said he could only assume that Hamilton had not seen him coming. The Williams had a temporary pace advantage having just pitted for new medium tyres.
"At that point I was going straight and I think, possibly, he didn't see me," said the Finn, who had to retire as a result.
"It wasn't a big impact, but it was enough to damage my car. Those things, they happen so quickly.
"I feel like I didn't do anything wrong and I would do that overtaking manoeuvre again in the future. I see it as an unlucky situation as it was such a small collision.
"I think it would've been possible for me to overtake him on the outside, without going on the kerb.
"When I got alongside him there was some room, but when we got into the corner the room was getting smaller and smaller. There was no time to react to it."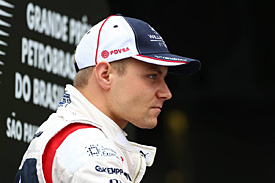 The Formula 1 rookie admitted that he had not realised he was trying to un-lap himself rather than passing for a position, but still stood by his attempt to overtake.
"I didn't know I was one lap behind him, I thought we were racing," said Bottas.
"But even though I was one lap behind him, I still tried to overtake because at this track, in the middle sector, if you are behind somebody it's very easy to start graining the tyres as you slide a bit more.
"I knew with the top speed we had on the main straight we wouldn't be able to overtake there, so it was a completely planned move.
"I used up all my KERS and was trying to get him from the outside, and then we hit."