Baku FIA GT: Stephane Ortelli and Laurens Vanthoor win race, title
| | |
| --- | --- |
| By Gary Watkins | Sunday, November 24th 2013, 12:38 GMT |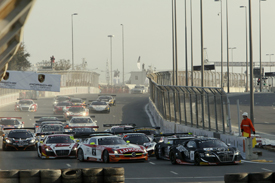 WRT Audi drivers Stephane Ortelli and Laurens Vanthoor sealed the FIA GT Series title with victory in a dramatic championship race on the streets of Baku.
Ortelli took the lead at a confused start in which team-mate and first race winner Niki Mayr-Melnhof was taken out of contention.
The WRT Audi R8 LMS ultra subsequently dropped to third shortly before a prolonged safety-car period to remove damaged kerbing at one of the chicanes, before Vanthoor resumed in second after the mandatory mid-race pitstops were complete.
The Belgian driver edged towards race leader Alon Day, who shared his Gravity Charouz Mercedes-Benz SLS AMG with Maximilian Buhk, and then took to the front when the Merc temporarily lost power.
Championship runners up Frank Stippler and Edward Sandstrom could only finish 13th and fifth of the registered points scorers in the Pro Cup after a slow pitstop.
The French Hexis Racing McLaren squad, which is set to close its doors after this race, claimed second place with its solo MP4-12C driven by Rob Bell and Kevin Estre, despite falling to the back of the field after Bell sustained a puncture on the opening lap.
Estre lay in eighth place after the pitstops, but quickly moved up the order and then took second in a dramatic incident at the first hairpin when he moved past Alvaro Parente's Loeb McLaren and Day in the Charouz Merc in one manoeuvre.
Day managed to hold off Parente, who shared his McLaren with team boss Sebastien Loeb, to take the final podium spot.

NEWS UPDATE: Loeb McLaren promoted to second
Pro-Am honours went to the fifth-placed Grasser Lamborghini Gallardo LP560-4 shared by Hari Proczyk and Dominik Baumann.
Results - 30 laps:

Pos  Drivers                 Team/Car                      Time/Gap
 1.  Ortelli/Vanthoor        WRT Audi                  1h00m39.010s
 2.  Bell/Estre              Hexis McLaren                  +1.313s
 3.  Buhk/Day                Gravity Charouz Mercedes       +5.312s
 4.  Loeb/Parente            Loeb McLaren                   +5.755s
 5.  Baumann/Proczyk         Grasser Lamborghini           +31.029s
 6.  Sladecka/Rosina         Grasser Lamborghini           +39.168s
 7.  Campanico/Ammermuller   Novadriver Audi               +39.464s
 8.  Sims/Dusseldorp         Boutsen McLaren               +39.884s
 9.  Soucek/Turvey           MRS McLaren                   +41.553s
10.  Hassid/Beltoise         TDS BMW                       +46.205s
11.  Stippler/Sandstrom      WRT Audi                    +1m03.310s
12.  Winkelhock/Ide          Phoenix Audi                +1m10.829s
13.  Sdanewitsch/Leo         AF Ferrari                  +1m23.156s
14.  Cunha/Stumpf            Rodrive Lamborghini            +2 laps
15.  Mayr-Melnhof/Rast       WRT Audi                       +2 laps
16.  Thomas/Melnikov         MRS McLaren                    +2 laps

Retirements:

     Zonta/Jimenez           Brasil BMW                     15 laps
     Tandy/Holzer            Trackspeed Porsche             14 laps
     Vervisch/Vandoorne      Boutsen McLaren                11 laps
     Charouz/Janis           Gravity Charouz Mercedes        7 laps
     Zuber/Parisy            Loeb McLaren                    3 laps
     Webb/Hetherington       Fortec Mercedes                 2 laps
     Khodair/Bueno           Brasil BMW                       1 lap
     Catsburg/Martin         Marc VDS BMW                    0 laps
     Afanasiev/Simonsen      Gravity Charouz Mercedes        0 laps
     Demoustier/Albuquerque  WRT Audi                        0 laps