Lotus says it would have been 'intriguing' to see Schumacher's form
| | |
| --- | --- |
| By Jonathan Noble | Friday, November 15th 2013, 21:30 GMT |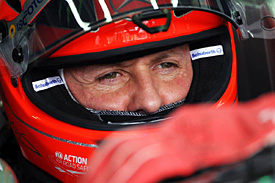 Lotus owner Gerard Lopez says it would have been 'intriguing' to see how Michael Schumacher fared if he had been keen on a Formula 1 comeback with his team.
Schumacher was one of seven candidates that Lotus put on a shortlist as contenders to replace Kimi Raikkonen for the United States and Brazilian Grands Prix.
In the end, Schumacher was not interested in opening talks, but Lopez still thinks it would have been fascinating to see how he would have got on.
"We wanted an experienced driver," Lopez told AUTOSPORT. "He was not rated higher or less than Heikki [Kovalainen], but we did place calls to different people to see who was where and where they stand.
"I still am very much a fan of F1, and as a fan it would have been intriguing. I don't know if he seriously considered it, I don't know if we were serious, but we thought we should place the call.
"He was on the list of seven. That is it. It would have been fun, maybe."
It is understood that the seven candidates that Lotus singled out for the seat were Schumacher, Nico Hulkenberg, Heikki Kovalainen, Pastor Maldonado, Rubens Barrichello, Kamui Kobayashi and Davide Valsecchi.
UNFAIR TO PROMOTE VALSECCHI
Although some - including Valsecchi himself - were surprised the team did not automatically take its reserve driver, Lopez reckons it would have been unfair to promote him for the final two events of the year amid such pressure to perform.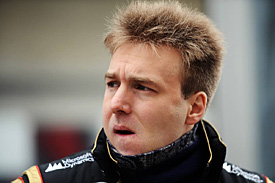 "If we were at race 10 or 11, he would be in the car for one, two, three or four races because he deserves to drive," said Lopez.
"But him wanting to drive is like a young guy: you want to have a drink, you know it's not good for you and your parents say it is not good for you, but you still want to.
"We know it would not be good for him to come into the last two races when you are fighting Ferrari,
"In his shoes I would kill to drive. To be fair to him - he totally deserves the drive but doesn't deserve to be put in the position where he has to, with Romain [Grosjean], put us in third place or even more in the constructors' championship."