Macau WTCC: Rob Huff fastest in disrupted Thursday test
| | |
| --- | --- |
| By Sam Tremayne | Thursday, November 14th 2013, 06:43 GMT |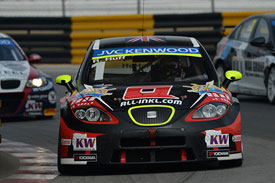 Rob Huff edged out Norbert Michelisz and Yvan Muller to set the pace in World Touring Car Championship testing in Macau.
The Briton, who has claimed pole for the last four years at the street circuit, hit the front in the final five minutes of a session punctuated by several crashes and one red flag.
He then improved his own benchmark in the final minute, setting a 2m32.147s to seal top spot by just seven hundredths of a second.
Suzuka racewinner Michelisz claimed second for the Zengo Honda squad, with RML Chevrolet's Muller - who set the pace prior to the red flag - finishing third, within a quarter of a second of Huff's best.
Honda and Chevrolet had dominated the opening 20 minutes, with Muller and Tuenti counterpart Pepe Oriola trading fastest times with Honda works driver Tiago Monteiro.
Monteiro wound up fourth overall, just ahead of Oriola and Stefano D'Aste, who recovered from a crash to finish as the top BMW driver in sixth.
The Italian had come together with Campos's new recruit Konstantins Calko at Moorish Hill, but was able to return to the pits and rejoin the session in the final minutes.
Moments after that contact, the red flag flew when Nika's Yukinori Taniguchi spun at the first corner and hit the inside wall.
Oriola had been fastest at that point, but when the session resumed he was immediately demoted by Monteiro, who in turn was pushed down the order as Huff, Michelisz and Muller improved.
RML's Tom Chilton and ROAL BMW man Tom Coronel rounded out the top eight, with Lada's James Thompson beating Mehdi Bennani to ninth.
Pos  Driver              Team/Car                Time       Gap
 1.  Rob Huff            Munnich SEAT            2m32.147s
 2.  Norbert Michelisz   Zengo Honda             2m32.218s   +0.071s
 3.  Yvan Muller         RML Chevrolet           2m32.371s   +0.224s
 4.  Tiago Monteiro      Honda                   2m32.693s   +0.546s
 5.  Pepe Oriola         Tuenti Chevrolet        2m32.780s   +0.633s
 6.  Stefano D'Aste      PB BMW                  2m33.314s   +1.167s
 7.  Tom Chilton         RML Chevrolet           2m33.347s   +1.200s
 8.  Tom Coronel         ROAL BMW                2m33.489s   +1.342s
 9.  James Thompson      Lada                    2m33.532s   +1.385s
10.  Mehdi Bennani       Proteam BMW             2m33.831s   +1.684s
11.  Darryl O'Young      ROAL BMW                2m34.439s   +2.292s
12.  Marc Basseng        Munnich SEAT            2m34.702s   +2.555s
13.  Alex MacDowall      Bamboo Chevrolet        2m34.766s   +2.619s
14.  Charles Ng          Engstler BMW            2m34.814s   +2.667s
15.  Gabriele Tarquini   Honda                   2m35.767s   +3.620s
16.  James Nash          Bamboo Chevrolet        2m35.898s   +3.751s
17.  Hugo Valente        Campos SEAT             2m35.925s   +3.778s
18.  Tom Boardman        Special Tuning SEAT     2m37.727s   +5.580s
19.  Freddy Barth        Wiechers BMW            2m38.455s   +6.308s
20.  Mikhail Kozlovskiy  Lada                    2m39.447s   +7.300s
21.  Franz Engstler      Engstler BMW            2m39.794s   +7.647s
22.  Michael Soong       Campos SEAT             2m39.986s   +7.839s
23.  Henry Ho            Engstler BMW            2m40.337s   +8.190s
24.  Kin Veng Ng         China Dragon Chevrolet  2m43.221s  +11.074s
25.  Eurico De Jesus     PAS Macau Honda         2m44.193s  +12.046s
26.  Rene Munnich        Munnich SEAT            2m44.281s  +12.134s
27.  Joseph Rosa-Merszei Engstler BMW            2m44.571s  +12.424s
28.  Filipe de Souza     China Dragon Chevrolet  2m44.856s  +12.709s
29.  Jeronimo Badaraco   Son Veng Chevrolet      2m45.517s  +13.370s
30.  Celio Alves Dias    China Dragon Chevrolet  2m45.559s  +13.412s
31.  Konstantins Calko   Campos SEAT             2m45.945s  +13.798s
32.  Ka Lok Mak          RPM BMW                 2m46.050s  +13.903s
33.  Yukinori Taniguchi  Nika Chevrolet          2m50.468s  +18.321s
34.  Lam Kam San         China Dragon Chevrolet  3m10.289s  +38.142s