Lewis Hamilton: Sebastian Vettel could be greatest ever F1 driver
| | |
| --- | --- |
| By Jonathan Noble | Monday, October 28th 2013, 15:11 GMT |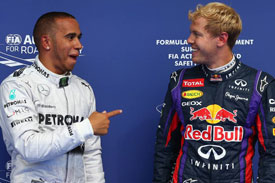 Lewis Hamilton believes Sebastian Vettel is on his way to becoming the greatest Formula 1 driver of all time after securing his fourth consecutive title.
The Red Bull driver clinched the championship at the Indian Grand Prix after a sixth straight victory that means he is undefeated since the summer break.
Vettel, who is the youngest double, triple and now quadruple world champion at 26, also became only the fourth driver in history to win four titles alongside Juan Manuel Fangio, Alain Prost and Michael Schumacher.
Hamilton is in no doubt that Vettel's achievements have been extraordinary.
"It is an incredible achievement for such a young individual," Hamilton said.
"He is in a class of his own, and he is on his way to becoming the greatest driver in F1, if he is not already.
"Big congratulations, I'm really happy for him."
Both Mercedes driver Hamilton and Ferrari rival Fernando Alonso admit it is up to them and their teams to raise their game in order to stop Vettel's domination of the sport.
"I hope in the future we get to race together, but until then we'll keep trying," Hamilton added.
"He [Vettel] has just got to enjoy it.
"All the rest of us are trying to catch up and we'll be hunting him down hopefully in the following years."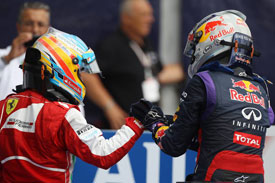 Alonso, the only man who could have taken the title battle on to the Abu Dhabi Grand Prix, said: "It is a day to congratulate him and for him to enjoy the championship.
"It is a day for us to start working even harder, because we have a very strong challenge in front of us.
"They [Red Bull] have been very strong dominating F1 for the last few years, so we need to do something better than we did the last four years because it is clear it is not enough.
"We will start immediately and next year we want to win so we have to work."