Red Bull: Sebastian Vettel learned from multi 21 team orders row
| | |
| --- | --- |
| By Jonathan Noble | Monday, October 28th 2013, 09:53 GMT |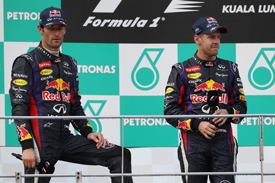 Red Bull believes Sebastian Vettel learned from mistakes such as the Malaysian Grand Prix 'multi 21' team orders fiasco, but accepts that a similar situation could still happen again.
Vettel and team-mate Mark Webber caused a storm when the now four-time Formula 1 world champion disobeyed team orders to pass the Australian for the win in Malaysia this year.
Red Bull design chief Adrian Newey reckons Vettel took on board the backlash he got after the Sepang race.
"There has been a bitter needle in the past between Mark and Sebastian, as has been well known," explained Newey.
"From Sebastian's point of view that [Malaysia] was a little bit of payback.
"Afterwards he knew he shouldn't have done it and perhaps he got himself a bit tongue tied in his excuses, but he is a young lad and the bottom line is he was in a race, there were those reasons and there was adrenaline.
"After the race, we all learn from our mistakes. That for me is one of the great things about Sebastian, that like all of us he makes mistakes but he always learns from it."
Newey accepted that while Vettel could repeat his actions on track, it is unlikely he would create such a post-race stir in the future.
"I'm not saying he won't disobey team orders again," he said. "But he will learn how to handle things.
"He is very humble. The success and fame he has achieved over the past four or five years, many people that would have gone to their head, and it hasn't with Sebastian at all.
"He remains totally feet on the ground, a very private person, a very bright lad."