Carlos Sainz sets the pace in Barcelona Formula Renault 3.5 test
| | |
| --- | --- |
| By Pablo Elizalde | Tuesday, October 22nd 2013, 20:07 GMT |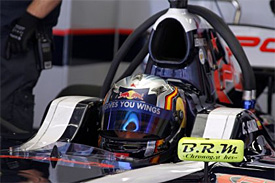 Carlos Sainz set the pace in the opening day of Formula Renault 3.5 testing at Barcelona on Tuesday.
The Spaniard, driving for Pons Racing, dominated both the morning and the afternoon sessions, setting the best time of the day - a 1m29.652s - before the lunch break.
Nico Muller in the Arden Caterham car and Strakka's Matias Laine completed the top three, the trio the only men to lap the Spanish track in the 1m29s during the session.
"It was almost a perfect day and I'm very pleased," said Sainz, who will be switching to DAMS for Wedneday's test.
"We worked well with the team. I've always thought that Pons Racing is a solid outfit. They're friends of mine and I really want to do a good job with them."
Russian Sergey Sirotkin was fourth fastest for ISR, while Will Buller completed the top five in the second Arden car.
Recently-crowned European Formula 3 champion Raffaele Marciello (DAMS) finished a strong sixth, while British F3 champion Jordan King posted the 15th quickest time in the morning and the 19th in the afternoon in the Carlin machine.
The Barcelona test ends on Wednesday.

Morning session

Pos Driver                  Team                 Time        Gap    Laps
 1. Carlos Sainz            Pons                 1m29.652s           39
 2. Nico Muller             Arden Caterham       1m29.704s  +0.052s  37
 3. Matias Laine            Strakka              1m29.966s  +0.314s  30
 4. Sergey Sirotkin         ISR                  1m30.056s  +0.404s  24
 5. William Buller          Arden Caterham       1m30.182s  +0.530s  30
 6. Raffaele Marciello      DAMS                 1m30.247s  +0.595s  35
 7. Daniil Move             ISR                  1m30.254s  +0.602s  31
 8. Will Stevens            Strakka              1m30.329s  +0.677s  34
 9. Pietro Fantin           Draco                1m30.465s  +0.813s  46
10. Jann Mardenborough      Carlin               1m30.593s  +0.941s  37
11. Nick Yelloly            Comtec               1m30.623s  +0.971s  40
12. Marlon Stockinger       DAMS                 1m30.689s  +1.037s  43
13. Stefano Coletti         Comtec               1m30.898s  +1.246s  19
14. Pierre Gasly            Tech 1               1m30.912s  +1.260s  33
15. Luca Ghiotto            Pons                 1m30.951s  +1.299s  33
16. Riccardo Agostini       Fortec               1m31.093s  +1.441s  31
17. Oliver Rowland          Fortec               1m31.313s  +1.661s  29
18. Vittorio Ghirelli       AV Formula           1m31.374s  +1.722s  40
19. Nikolay Martsenko       Zeta Corse           1m31.630s  +1.978s  34
20. William Vermont         Tech 1               1m31.735s  +2.083s  44
21. Jordan King             Carlin               1m31.842s  +2.190s  30
22. Oscar Tunjo             Lotus                1m31.896s  +2.244s  28
23. Lucas Foresti           Draco                1m31.975s  +2.323s  27
24. Alice Powell            Av Formula           1m32.534s  +2.882s  43
25. Matthieu Vaxiviere      Lotus                1m32.618s  +2.966s  24
26. Roman Mavlanov          Zeta Corse           1m33.731s  +4.079s  36

Afternoon session

Pos Driver                  Team                 Time        Gap    Laps
 1. Carlos Sainz            Pons                 1m30.502s           41
 2. Nico Muller             Arden Caterham       1m30.606s  +0.104s  37
 3. Matias Laine            Strakka              1m31.031s  +0.529s  23
 4. Pietro Fantin           Draco                1m31.091s  +0.589s  30
 5. Sergey Sirotkin         ISR                  1m31.130s  +0.628s  24
 6. Oscar Tunjo             Lotus                1m31.154s  +0.652s  31
 7. Will Stevens            Strakka              1m31.155s  +0.653s  21
 8. Raffaele Marciello      DAMS                 1m31.185s  +0.683s  28
 9. Nikolay Martsenko       Zeta Corse           1m31.265s  +0.763s  37
10. Oliver Rowland          Fortec               1m31.294s  +0.792s  26
11. Stefano Coletti         Comtec               1m31.302s  +0.800s  25
12. Jann Mardenborough      Carlin               1m31.363s  +0.861s  38
13. William Buller          Arden Caterham       1m31.456s  +0.954s  30
14. Matthieu Vaxiviere      Lotus                1m31.495s  +0.993s  25
15. Jordan King             Carlin               1m31.540s  +1.038s  24
16. Marlon Stockinger       Dams                 1m31.553s  +1.051s  21
17. Pierre Gasly            Tech 1               1m31.601s  +1.099s  40
18. Riccardo Agostini       Fortec               1m31.608s  +1.106s  33
19. Vittorio Ghirelli       AV Formula           1m31.634s  +1.132s  28
20. Nick Yelloly            Comtec               1m31.979s  +1.477s  33
21. Lucas Foresti           Draco                1m32.068s  +1.566s  32
22. William Vermont         Tech 1               1m32.315s  +1.813s  34
23. Daniil Move             ISR                  1m32.489s  +1.987s  17
24. Luca Ghiotto            Pons                 1m32.550s  +2.048s  30
25. Roman Mavlanov          Zeta Corse           1m32.949s  +2.447s  26
26. Alice Powell            AV Formula           1m33.377s  +2.875s  27