Hockenheim European F3: Raffaele Marciello finishes season with victory
| | |
| --- | --- |
| By Jamie O'Leary | Sunday, October 20th 2013, 09:48 GMT |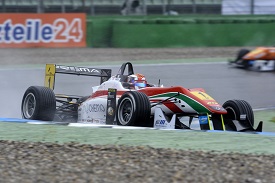 Ferrari protege Raffaele Marciello capped off his title-winning Formula 3 European Championship season with a commanding victory in a very wet final race of 2013 at Hockenheim.
With heavy rain falling throughout the morning, the race started behind the safety car, and two laps had been completed before racing was allowed to begin.
Prema Powerteam driver Marciello came under pressure on more than one occasion from title rival Felix Rosenqvist throughout the race, but every time the Mucke Motorsport driver closed onto his tail, he dropped back due to poor visibility. Marciello's victory margin was just two tenths of a second from the Swede.
Harry Tincknell ran a lonely third for most of the race, but the Carlin driver slipped back two spots after running wide and through the gravel at the entrance to the stadium section. Prema's Lucas Auer, who had been pressuring Tincknell for the spot at the time of the Briton's gravelly excursion, took the final podium spot.
EuroInternational's Tom Blomqvist started eighth, but put together a series of neat passing moves on, respectively, Nick Cassidy and Antonio Giovinazzi, to gain two spots. He then benefited from Tincknell's off and a 10-second time loss from Jordan King in the final sector during the middle of the race to wind up fourth.
Cassidy, who started sixth, gradually fell backwards to end up 16th in his Carlin machine while Van Amersfoort's Sven Muller and Prema's Alex Lynn went the other way.
Muller finished seventh - one spot behind Double R's impressive Giovinazzi - having started 12th.
Lynn, who began the race 20th after damaging his floor in qualifying, took eighth.
Pipo Derani broke his left-front suspension after spinning Eddie Cheever at the Spitzkehre while the pair squabbled over 10th while tail-end runner Tatiana Calderon T-boned Spike Goddard at the same corner later on.
Results - 16 laps:                         
                                                                   
Pos Driver              Team/Car                           Time/Gap
 1. Raffaele Marciello  Prema Dallara-Merc               35m29.932s
 2. Felix Rosenqvist    Mucke Dallara-Merc                  +0.243s
 3. Lucas Auer          Prema Dallara-Merc                  +9.363s
 4. Tom Blomqvist       Eurointernational Dallara-Merc     +15.954s
 5. Harry Tincknell     Carlin Dallara-VW                  +26.697s
 6. Antonio Giovinazzi  Double R Dallara-Merc              +27.867s
 7. Sven Müller         Van Amersfoot Dallara-VW           +32.112s
 8. Alex Lynn           Prema Dallara-Merc                 +36.122s
 9. Jordan King         Carlin Dallara-VW                  +40.293s
10. Michael Lewis       Mucke Dallara-Merc                 +42.256s
11. Jann Mardenborough  Carlin Dallara-VW                  +43.193s
12. Dennis van de Laar  Van Amersfoot Dallara-VW           +50.982s
13. Sean Gelael         Double R Dallara-Merc              +51.864s
14. Kevin Korjus        T-Sport Dallara-Nissan             +52.618s
15. Roy Nissany         Mucke Dallara-Merc                 +56.846s
16. Nick Cassidy        Carlin Dallara-VW                  +58.037s
17. Eddie Cheever       Prema Dallara-Merc                 +59.144s
18. Sandro Zeller       Zeller Dallara-Merc              +1m24.171s
19. Andre Rudersdorf    Ma-con Dallara-VW                +1m29.798s
20. Richard Goddard     T-Sport Dallara-Nissan               -1 lap
                                                                   
Retirements:                                                
    Mitchell Gilbert    Mucke Dallara-Merc                  13 laps
    Felix Serralles     Fortec Dallara-Merc                 10 laps
    Tatiana Calderon    Double R Dallara-Merc                8 laps
    Nicholas Latifi     Carlin Dallara-VW                    7 laps
    John Bryant-Meisner Fortec Dallara-Merc                  7 laps
    Luis Felipe Derani  Fortec Dallara-Merc                  5 laps
    Lucas Wolf          URD Dallara-Merc                     3 laps