Hockenheim European F3: Felix Rosenqvist wins to keep title hopes alive
| | |
| --- | --- |
| By Jamie O'Leary | Saturday, October 19th 2013, 10:12 GMT |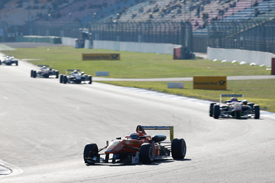 Felix Rosenqvist kept his bid for the Formula 3 European Championship alive with a dominant victory in the first of three races at the Hockenheim season finale.
The Mucke Motorsport driver made a terrific start from second on the grid to beat points leader Raffaele Marciello into the first corner, and pulled away to a six-second victory.
Rosenqvist's ninth win of the season reduced the Swede's deficit to Ferrari Formula 1 junior driver Marciello from 45.5 to 38.5 with 50 still available from the final two races. Prema Powerteam driver Marciello will wrap up the title on Saturday evening with a fourth-placed finish.
Carlin's Harry Tincknell ran third during the early stages, but was overtaken by British compatriot Alex Lynn at the Spitzkehre on lap seven.
Prema driver Lynn ran wide, banging bodywork with Tincknell and causing both to run off-track at the corner's exit.
Sven Muller nipped past both in one move and went on to take Van Amersfoort Racing's first podium finish in the championship as a result.
Lynn, who was shown the black-and-white flag for his role in the incident, finished fourth while Tincknell lost another spot to Antonio Giovinazzi, but was promoted a place when the Double R driver served a drive-through for exceeding track limits and dropped back to 13th.
Tincknell and Carlin team-mate Jordan King came home fifth and sixth, both coming out on top in entertaining scraps with Dennis van de Laar's Van Amersfoort car.
Pipo Derani was Fortec's top finisher, the Brazilian gradually making up places to finish seventh, ahead of van de Laar, Eddie Cheever (Prema) and Tom Blomqvist (EuroInternational).
Prema's fourth driver, Lucas Auer, stalled on the grid from fifth spot and spent the rest of the race a lap down.
He made contact with Stefano Coletti's Ma-con machine during the middle stages of the race, damaging the nosecone on the latter's car, which did not make the finish.
Results - 22 laps:

Pos Driver              Team/Car                          Time/Gap  
 1. Felix Rosenqvist    Mucke Dallara-Merc              34m42.654s
 2. Raffaele Marciello  Prema Dallara-Merc                 +5.940s
 3. Sven Muller         Van Amersfoot Dallara-VW          +10.813s
 4. Alex Lynn           Prema Dallara-Merc                +14.396s
 5. Harry Tincknell     Carlin Dallara-VW                 +17.373s
 6. Jordan King         Carlin Dallara-VW                 +18.565s
 7. Pipo Derani         Fortec Dallara-Merc               +22.014s
 8. Dennis van de Laar  Van Amersfoot Dallara-VW          +22.728s
 9. Eddie Cheever       Prema Dallara-Merc                +25.311s
10. Tom Blomqvist       Eurointernational Dallara-Merc    +26.436s
11. Felix Serralles     Fortec Dallara-Merc               +28.602s
12. Nicholas Latifi     Carlin Dallara-VW                 +30.010s
13. John Bryant-Meisne  Fortec Dallara-Merc               +30.655s
14. Mitchell Gilbert    Mucke Dallara-Merc                +33.941s
15. Michael Lewis       Mucke Dallara-Merc                +34.554s
16. Jann Mardenborough  Carlin Dallara-VW                 +41.522s
17. Antonio Giovinazzi  Double R Dallara-Merc             +43.424s
18. Roy Nissany         Mucke Dallara-Merc                +47.126s
19. Lucas Wolf          URD Dallara-Merc                  +51.318s
20. Andre Rudersdorf    Ma-con Dallara-VW                 +52.025s
21. Tatiana Calderon    Double R Dallara-Merc             +54.500s
22. Spike Goddard       T-Sport Dallara-Nissan            +59.995s
23. Sandro Zeller       Zeller Dallara-Merc               +1m02.335s
24. Nick Cassidy        Carlin Dallara-VW                 +1m10.780s
25. Sean Gelael         Double R Dallara-Merc             +1m22.496s
26. Lucas Auer          Prema Dallara-Merc                  -1 lap
   
Retirements:
    Stefano Coletti     Ma-con Dallara-VW                  17 laps 
    Kevin Korjus        T-Sport Dallara-Nissan              2 laps