Sauber: Esteban Gutierrez deserves long Formula 1 career
| | |
| --- | --- |
| By Edd Straw | Wednesday, October 16th 2013, 11:05 GMT |
Esteban Gutierrez has the ability to have a long career in Formula 1, according to Sauber head of trackside engineering Tom McCullough.
The Mexican's future as a grand prix driver is in doubt and he is likely to have to find another team if he is to remain on the grid next year, but his performances have improved since the August break.
McCullough believes Gutierrez's work ethic is the key to him recovering from a difficult start to the year.
"His speed has never been in doubt, even when he tested for us in the past the speed was evident," McCullough told AUTOSPORT.
"He is a really bright lad and works hard, so he has potentially a very good career ahead of him.

AUTOSPORT analysis: Gutierrez becomes an asset to Sauber
"It is hard for rookies, especially when you are fighting in such a tight part of the grid.
"He did not have a lot of winter testing mileage because the bad weather kept seeming to fall on Esteban's car, so he came into the first race with not a lot of dry running under his belt.
"But every day he has learned, applied himself and looked to improve in every area, which is exactly what he is doing."
ON THE MARKET FOR 2014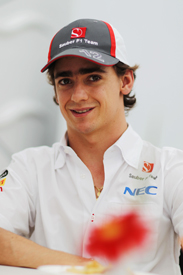 Gutierrez insists he will not be distracted by question marks over his future.
He plans to focus on maintaining his performance level in the final four races and is confident this will allow him to continue to race in F1 next year.
"To be honest, I feel comfortable and the team knows my approach and the way I work," Gutierrez told AUTOSPORT.
"They know that I have been doing my best and with this kind of feeling, these kinds of results, I should not worry about next season."
Sauber has confirmed Russian rookie Sergey Sirotkin will race one of its car's next year, subject to him gaining the requisite Super Licence.
When asked whether Gutierrez is in contention for a drive next year, team principal Monisha Kaltenborn replied: "we have a couple of options and we will carefully look at them."