Sauber lifted by passing Toro Rosso in the F1 standings
| | |
| --- | --- |
| By Edd Straw | Tuesday, October 8th 2013, 10:43 GMT |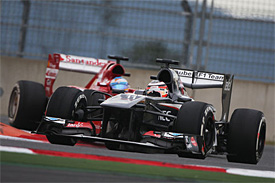 Sauber head of trackside engineering Tom McCullough believes taking seventh place in the Formula 1 constructors' championship from Toro Rosso is a boost for the team's motivation.

The Swiss squad suffered a poor start to the year, scoring only seven points in the first 11 races, but has scored 24 in the last three compared to Toro Rosso's six.

This has allowed the team to move level on points with Toro Rosso in the standings and ahead overall on countback to best result.

"That's right, this just lifts everybody," McCullough told AUTOSPORT when asked if getting ahead of Toro Rosso is a boost for the team.

"We've got a chance of regular points now - and sometimes bigger points - and it really motivates the whole team.

"The result had an element of luck to it, but we have had our fair share of bad luck this year and we are putting the car in places where you can pick up bigger points.

"When you are in the hunt, you are in the position to take the benefit from circumstances and if the driver does as great a job as Nico [Hulkenberg] did then you can get a result."

SUMMER UPDATES PAYING OFF

Sauber's turnaround is down to a combination of recent upgrades, beginning with a package introduced in Hungary, and the change in Pirelli's tyres.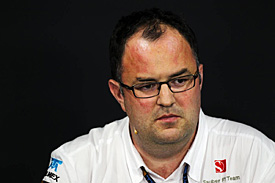 The team also brought forward an upgrade package originally scheduled for the Indian GP, adding it to the car in Korea, which required vast effort by the team.

McCullough believes the recent progress bodes well for next season.

"The good thing for the company is the understanding of the car, which is going to help us with next year's," he said.

"The development of the two cars is simultaneous and the understanding aerodynamically is simultaneous.

"It's very satisfying to see a lot of people doing a lot of hard work in the factory which is all coming together in being able to go home with points."