Jules Bianchi, Charles Pic to get grid penalties after reprimands
| | |
| --- | --- |
| By Edd Straw | Sunday, October 6th 2013, 12:07 GMT |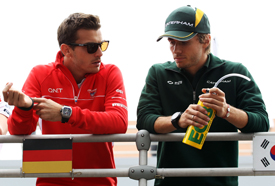 Jules Bianchi and Charles Pic will be hit with 10-place grid penalties after both receiving their third reprimands of the season for failing to respond to yellow flags during the Korean Grand Prix.
Marussia driver Bianchi's telemetry did not, according to the stewards panel that includes ex-Benetton and Scuderia Italia Formula 1 racer Emanuele Pirro, "indicate the driver slowed for the yellow flag".
This follows reprimands for impeding Paul di Resta in qualifying on Saturday and missing the weighbridge during qualifying for the British GP.
Pic was found to have been 2km/h faster than he was previously when he passed a yellow flag on lap 53, leading to him also being reprimanded.
He was reprimanded in Yeongam qualifying for missing the weighbridge and had also been picked up for rejoining dangerously in front of Sebastian Vettel during practice at Spa.
The FIA sporting regulations dictate any driver hit with three reprimands during a season be automatically hit with a 10-place grid penalty, provided at least two of the offences were driving-related.
Caterham driver Giedo van der Garde and Marussia's Max Chilton also both received reprimands for failing to stay above the minimum time set by the FIA ECU under the safety car.
Force India driver Adrian Sutil escaped punishment for colliding with Mark Webber, putting the Red Bull driver out of the race.
Paul di Resta was also investigated for leaving the track while trying to pass Sergio Perez's McLaren, but no action was taken "as no driver was determined to be wholly or predominantly to blame, the stewards decade that no further action should be taken."
No action was taken in the investigation over a clash between Perez and Felipe Massa at Turn 6 either.
REPRIMANDS IN 2013
A total of 12 drivers have been hit with official reprimands during the 2013 season.
Any driver incurring three is automatically hit with a 10-place grid penalty, providing at least two of them were for 'driving' offences.
Mark Webber, 3
Charles Pic, 3
Jules Bianchi, 3
Fernando Alonso, 1
Valtteri Bottas, 1
Romain Grosjean, 1
Lewis Hamilton, 1
Kimi Raikkonen, 1
Nico Rosberg, 1
Adrian Sutil, 1
Giedo van der Garde, 1
Max Chilton, 1