Zandvoort European F3: Rosenqvist takes two poles, Kvyat the other
| | |
| --- | --- |
| By Marcus Simmons | Friday, September 27th 2013, 17:03 GMT |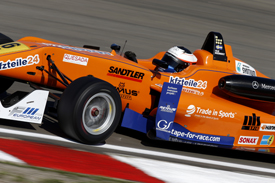 Felix Rosenqvist gave himself a glimmer of hope of snatching the Formula 3 European Championship title by taking two pole positions for this weekend's races at Zandvoort.
Rosenqvist will line up at the front for races two and three, but has to play third fiddle behind Daniil Kvyat and Alex Lynn for the first race.
GP3 title contender Kvyat, who is not registered for F3 points, topped the opening session in his Carlin Dallara-Volkswagen by a clear four tenths of a second, while a late effort from Lynn allowed the Englishman to join the Russian on the front row with his Prema Powerteam Dallara-Mercedes.
But on second-best times Rosenqvist, whose best two laps were just one hundredth apart, got the verdict for race two in his Mucke Motorsport Dallara-Mercedes from Kvyat and Lynn.
Rosenqvist then stayed a step ahead of the opposition in the second session, which set the grid for race three, turning the tables on Kvyat by four tenths at the circuit where he won July's Masters of F3.
In this session Jordan King, who is fourth on the grid for the first two races, went one better to edge out Lynn for third in his Carlin machine.
Prema's championship leader Raffaele Marciello ended up with a pair of fifths and a seventh, although had a time that would have put him fourth for race one deleted as it was set just as the red flag appeared due to a light accident for Lucas Wolf.
There was another crash right at the end of the session for Nicholas Latifi, and the Canadian did not take part in the second period.
Harry Tincknell joined Carlin team-mates Kvyat and King in the top six on the grid for all three races, with a fifth and two sixths.
Of the other Britons in the field, Tom Blomqvist took a best grid position of eighth, Jann Mardenborough 11th and Alexander Sims 12th.
Race one grid:

Pos  Driver              Team/Car                        Time       Gap
 1.  Daniil Kvyat        Carlin Dallara-VW               1m30.653s
 2.  Alex Lynn           Prema Dallara-Merc              1m31.054s  +0.401s
 3.  Felix Rosenqvist    Mucke Dallara-Merc              1m31.121s  +0.468s
 4.  Jordan King         Carlin Dallara-VW               1m31.226s  +0.573s
 5.  Raffaele Marciello  Prema Dallara-Merc              1m31.302s  +0.649s
 6.  Harry Tincknell     Carlin Dallara-VW               1m31.312s  +0.659s
 7.  Lucas Auer          Prema Dallara-Merc              1m31.312s  +0.659s
 8.  Pipo Derani         Fortec Dallara-Merc             1m31.481s  +0.828s
 9.  Tom Blomqvist       Eurointernational Dallara-Merc  1m31.489s  +0.836s
10.  Sven Muller         Van Amersfoort Dallara-VW       1m31.557s  +0.904s
11.  Michael Lewis       Mucke Dallara-Merc              1m31.589s  +0.936s
12.  Mitchell Gilbert    Mucke Dallara-Merc              1m31.638s  +0.985s
13.  Jann Mardenborough  Carlin Dallara-VW               1m31.648s  +0.995s
14.  Alexander Sims      T-Sport Dallara-Nissan          1m31.716s  +1.063s
15.  Nicholas Latifi     Carlin Dallara-VW               1m31.721s  +1.068s
16.  Felix Serralles     Fortec Dallara-Merc             1m31.799s  +1.146s
17.  Eddie Cheever       Prema Dallara-Merc              1m31.978s  +1.325s
18.  Antonio Giovinazzi  Double R Dallara-Merc           1m32.014s  +1.361s
19.  Dennis van de Laar  Van Amersfoort Dallara-VW       1m32.143s  +1.490s
20.  Lucas Wolf          URD Dallara-Merc                1m32.295s  +1.642s
21.  Roy Nissany         Mucke Dallara-Merc              1m32.409s  +1.756s
22.  Andre Rudersdorf    Ma-con Dallara-VW               1m32.613s  +1.960s
23.  Spike Goddard       T-Sport Dallara-Nissan          1m32.868s  +2.215s
24.  Alfonso Celis       Fortec Dallara-Merc             1m32.913s  +2.260s
25.  Sandro Zeller       Zeller Dallara-Merc             1m33.228s  +2.575s
26.  Tatiana Calderon    Double R Dallara-Merc           1m33.388s  +2.735s
27.  Sean Gelael         Double R Dallara-Merc           1m33.871s  +3.218s

Race two grid:

Pos  Driver              Team/Car                        Time       Gap
 1.  Felix Rosenqvist    Mucke Dallara-Merc              1m31.133s
 2.  Daniil Kvyat        Carlin Dallara-VW               1m31.263s  +0.130s
 3.  Alex Lynn           Prema Dallara-Merc              1m31.288s  +0.155s
 4.  Jordan King         Carlin Dallara-VW               1m31.354s  +0.221s
 5.  Harry Tincknell     Carlin Dallara-VW               1m31.394s  +0.261s
 6.  Pipo Derani         Fortec Dallara-erc              1m31.535s  +0.402s
 7.  Raffaele Marciello  Prema Dallara-Merc              1m31.544s  +0.411s
 8.  Sven Muller         Van Amersfoort Dallara-VW       1m31.577s  +0.444s
 9.  Tom Blomqvist       Eurointernational Dallara-Merc  1m31.677s  +0.544s
10.  Mitchell Gilbert    Mucke Dallara-Merc              1m31.678s  +0.545s
11.  Jann Mardenborough  Carlin Dallara-VW               1m31.698s  +0.565s
12.  Michael Lewis       Mucke Dallara-Merc              1m31.857s  +0.724s
13.  Felix Serralles     Fortec Dallara-erc              1m31.888s  +0.755s
14.  Nicholas Latifi     Carlin Dallara-VW               1m32.040s  +0.907s
15.  Alexander Sims      T-Sport Dallara-Nissan          1m32.051s  +0.918s
16.  Eddie Cheever       Prema Dallara-Merc              1m32.105s  +0.972s
17.  Lucas Auer          Prema Dallara-Merc              1m32.160s  +1.027s
18.  Antonio Giovinazzi  Double R Dallara-Merc           1m32.216s  +1.083s
19.  Dennis van de Laar  Van Amersfoort Dallara-VW       1m32.253s  +1.120s
20.  Lucas Wolf          URD Dallara-Merc                1m32.387s  +1.254s
21.  Roy Nissany         Mucke Dallara-Merc              1m32.496s  +1.363s
22.  Andre Rudersdorf    Ma-con Dallara-VW               1m32.655s  +1.522s
23.  Alfonso Celis       Fortec Dallara-erc              1m32.927s  +1.794s
24.  Spike Goddard       T-Sport Dallara-Nissan          1m33.044s  +1.911s
25.  Sandro Zeller       Zeller Dallara-Merc             1m33.273s  +2.140s
26.  Tatiana Calderon    Double R Dallara-Merc           1m33.801s  +2.668s
27.  Sean Gelael         Double R Dallara-Merc           1m36.760s  +5.627s

Race three grid:

Pos  Driver              Team/Car                        Time       Gap
 1.  Felix Rosenqvist    Mucke Dallara-Merc              1m30.242s
 2.  Daniil Kvyat        Carlin Dallara-VW               1m30.669s  +0.427s
 3.  Jordan King         Carlin Dallara-VW               1m30.721s  +0.479s
 4.  Alex Lynn           Prema Dallara-Merc              1m30.755s  +0.513s
 5.  Raffaele Marciello  Prema Dallara-Merc              1m30.786s  +0.544s
 6.  Harry Tincknell     Carlin Dallara-VW               1m30.877s  +0.635s
 7.  Pipo Derani         Fortec Dallara-Merc             1m31.011s  +0.769s
 8.  Tom Blomqvist       Eurointernational Dallara-Merc  1m31.045s  +0.803s
 9.  Sven Muller         Van Amersfoort Dallara-VW       1m31.085s  +0.843s
10.  Mitchell Gilbert    Mucke Dallara-Merc              1m31.148s  +0.906s
11.  Lucas Auer          Prema Dallara-Merc              1m31.163s  +0.921s
12.  Alexander Sims      T-Sport Dallara-Nissan          1m31.227s  +0.985s
13.  Michael Lewis       Mucke Dallara-Merc              1m31.327s  +1.085s
14.  Dennis van de Laar  Van Amerfoort Dallara-VW        1m31.485s  +1.243s
15.  Roy Nissany         Mucke Dallara-Merc              1m31.522s  +1.280s
16.  Jann Mardenborough  Carlin Dallara-VW               1m31.597s  +1.355s
17.  Eddie Cheever       Prema Dallara-Merc              1m31.739s  +1.497s
18.  Alfonso Celis       Fortec Dallara-Merc             1m31.796s  +1.554s
19.  Antonio Giovinazzi  Double R Dallara-Merc           1m31.873s  +1.631s
20.  Spike Goddard       T-Sport Dallara-Nissan          1m32.050s  +1.808s
21.  Andre Rudersdorf    Ma-con Dallara-VW               1m32.065s  +1.823s
22.  Lucas Wolf          URD Dallara-Merc                1m32.402s  +2.160s
23.  Sandro Zeller       Zeller Dallara-Merc             1m32.415s  +2.173s
24.  Sean Gelael         Double R Dallara-Merc           1m32.490s  +2.248s
25.  Tatiana Calderon    Double R Dallara-Merc           1m32.968s  +2.726s
26.  Felix Serralles     Fortec Dallara-Merc             1m33.355s  +3.113s
27.  Nicholas Latifi     Carlin Dallara-VW