Hungaroring FR3.5: Carlos Sainz Jr sets practice pace
| | |
| --- | --- |
| By Glenn Freeman | Friday, September 13th 2013, 13:45 GMT |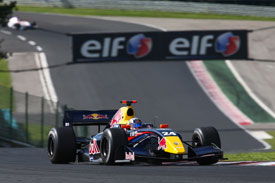 Carlos Sainz Jr kicked off his return to Formula Renault 3.5 action by setting the pace in free practice on Friday at the Hungaroring.
The Red Bull junior - who raced at Monaco and Spa earlier in the season - is set to complete the campaign with Zeta Corse.
He enjoyed a brief spell at the top of the times with fellow Red Bull stablemate Antonio Felix da Costa early on, and he then set the quickest time of the day in the final minutes of the afternoon session.
Sainz's lap denied potential Sauber 2014 Formula 1 racer Sergey Sirotkin the top spot, after he had moved into first place with 10 minutes to go.
Will Buller completed a good day for Zeta by jumping up to third in the closing stages, moving him just ahead of morning pacesetter Marco Sorensen, who dominated the last FR3.5 event at Spielberg.
Championship leader Kevin Magnussen completed the top five, just ahead of Will Stevens, who fell from second to sixth during a frantic spell of action in the closing stages.
Two drivers who didn't get involved in any of the late-session excitement in the afternoon were da Costa and Magnussen's title rival Stoffel Vandoorne.
The pair enjoyed a long spell at the top of the times during the middle of the session, but they were shuffled down to seventh and ninth respectively in the final few minutes.
Afternoon times
                                                                  
Pos Driver                  Team               Time        Gap    Laps
 1. Carlos Sainz Jr         Zeta Course        1m29.185s           23          
 2. Sergey Sirotkin         ISR                1m29.361s  +0.176s  24          
 3. Will Buller             Zeta Corse         1m29.395s  +0.210s  19          
 4. Marco Sorensen          Lotus              1m29.400s  +0.215s  23          
 5. Kevin Magnussen         DAMS               1m29.516s  +0.331s  23          
 6. Will Stevens            P1                 1m29.625s  +0.440s  24          
 7. Antonio Felix da Costa  Arden Caterham     1m29.632s  +0.447s  25          
 8. Nico Muller             Draco              1m29.734s  +0.549s  23          
 9. Stoffel Vandoorne       Fortec             1m29.875s  +0.690s  25          
10. Arthur Pic              AV Formula         1m29.889s  +0.704s  18          
11. Lucas Foresti           Comtec             1m30.083s  +0.898s  21          
12. Norman Nato             DAMS               1m30.195s  +1.010s  23          
13. Oliver Webb             Fortec             1m30.199s  +1.014s  22          
14. Jazeman Jaafar          Carlin             1m30.242s  +1.057s  24          
15. Marlon Stockinger       Lotus              1m30.431s  +1.246s  24          
16. Christophe Zanella      ISR                1m30.571s  +1.386s  21          
17. Nigel Melker            Tech 1             1m30.575s  +1.390s  23          
18. Matias Laine            P1                 1m30.647s  +1.462s  21          
19. Carlos Huertas          Carlin             1m30.731s  +1.546s  20          
20. Zoel Amberg             Pons               1m30.826s  +1.641s  23          
21. Nikolay Martsenko       Pons               1m30.960s  +1.775s  21          
22. Yann Cunha              AV Formula         1m31.025s  +1.840s  20          
23. Daniil Move             Comtec             1m31.072s  +1.887s  20          
24. Mikhail Aleshin         Tech 1             1m31.174s  +1.989s  24          
25. Pietro Fantin           Arden Caterham     1m31.251s  +2.066s  26          
26. Andre Negrao            Draco              1m31.488s  +2.303s  23          
                                                                               

Morning times
                                                                  
Pos Driver                  Team               Time        Gap   Laps 
 1. Marco Sorensen          Lotus              1m29.574s          24           
 2. Kevin Magnussen         DAMS               1m29.690s  +0.116  24           
 3. Carlos Sainz Jr         Zeta Corse         1m30.030s  +0.456  20           
 4. Nico Muller             Draco              1m30.106s  +0.532  24           
 5. Will Stevens            P1                 1m30.169s  +0.595  21           
 6. Marlon Stockinger       Lotus              1m30.317s  +0.743  21           
 7. Arthur Pic              AV Formula         1m30.476s  +0.902  21           
 8. Antonio Felix da Costa  Arden Caterham     1m30.603s  +1.029  19           
 9. Oliver Webb             Fortec             1m30.671s  +1.097  24           
10. Nigel Melker            Tech 1             1m30.723s  +1.149  26           
11. Sergey Sirotkin         ISR                1m30.875s  +1.301  21           
12. Carlos Huertas          Carlin             1m31.056s  +1.482  21           
13. Lucas Foresti           Comtec             1m31.063s  +1.489  18           
14. Andre Negrao            Draco              1m31.151s  +1.577  19           
15. Stoffel Vandoorne       Fortec             1m31.162s  +1.588  25           
16. Daniil Move             Comtec             1m31.183s  +1.609  18           
17. Zoel Amberg             Pons               1m31.184s  +1.610  23           
18. Pietro Fantin           Arden Caterham     1m31.205s  +1.631  21           
19. Jazeman Jaafar          Carlin             1m31.223s  +1.649  22           
20. Norman Nato             DAMS               1m31.321s  +1.747  12           
21. Matias Laine            P1                 1m31.423s  +1.849  19           
22. Nikolay Martsenko       Pons               1m31.435s  +1.861  18           
23. Christopher Zanella     ISR                1m31.863s  +2.289  17           
24. Yann Cunha              AV Formula         1m31.987s  +2.413  19           
25. Mikhail Aleshin         Tech 1             1m32.166s  +2.592  13           
26. Will Buller             Zeta Corse         1m32.695s  +3.121  18