Daniil Kvyat dominates Hockenheim test
| | |
| --- | --- |
| By Marcus Simmons | Thursday, September 12th 2013, 15:34 GMT |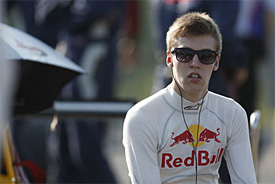 Red Bull junior Daniil Kvyat dominated the second day of the Formula 3 European Championship test at Hockenheim to set the fastest time over the two days of running.
The Russian set the overall best time in the Thursday morning session, and his Carlin Dallara-Volkswagen set no fewer than five laps quicker than anyone else in the afternoon too.
Both sessions began in wet conditions, before gradually drying out.
Kvyat, who has yet to win an F3 race but is a title contender in the GP3 Series, headed Carlin team-mate Jordan King in the morning, and King's time was enough to keep him second overall on the day.
Current championship runner-up Felix Rosenqvist was third fastest in the morning and on the day, with Sven Muller continuing his impressive switch to the Van Amersfoort Racing team by going second in the afternoon with a time good enough for fourth overall.
It was a good day for the Dutch VAR team, with its second car of Dennis van de Laar fifth ahead of Andre Rudersdorf, the German showing by far his best form of his maiden European F3 season with Ma-Con.
The Prema Powerteam challenge was headed by championship leader Raffaele Marciello, who was seventh fastest overall.
Kevin Korjus did a solid job to go 13th fastest after replacing Wednesday pacesetter Alexander Sims in T-Sport's Dallara-Nissan. He was on what looked like a much quicker lap, setting a purple time in the second (and longest) sector, when he was forced to abort the lap.
New Fortec Motorsport recruit John Bryant-Meisner ended the day 19th fastest, although the team's Pipo Derani was forced to miss the test due to commitments at home in Sao Paulo.

Pos Driver               Team/Car/Engine                  Time       
 1. Daniil Kvyat         Carlin Dallara-VW                1m33.305s
 2. Jordan King          Carlin Dallara-VW                1m33.564s
 3. Felix Rosenqvist     Mucke Motorsport Dallara-Merc    1m33.645s
 4. Sven Muller          Van Amersfoort Racing Dallara-VW 1m33.714s
 5. Dennis van de Laar   Van Amersfoort Racing Dallara-VW 1m33.830s
 6. Andre Rudersdorf     Ma-Con Dallara-VW                1m33.844s
 7. Raffaele Marciello   Prema Powerteam Dallara-Merc     1m33.876s
 8. Lucas Auer Prema     Powerteam Dallara-Merc           1m33.884s
 9. Felix Serralles      Fortec Motorsport Dallara-Merc   1m33.902s
10. Harry Tincknell      Carlin Dallara-VW                1m33.926s
11. Nicholas Latifi      Carlin Dallara-VW                1m33.945s
12. Jann Mardenborough   Carlin Dallara-VW                1m33.989s
13. Kevin Korjus         T-Sport Dallara-Nissan           1m34.014s
14. Antonio Giovinazzi   Double R Racing Dallara-Merc     1m34.082s
15. Alex Lynn            Prema Powerteam Dallara-Merc     1m34.089s
16. Mitchell Gilbert     Mucke Motorsport Dallara-Merc    1m34.121s
17. Tom Blomqvist        EuroInternational Dallara-Merc   1m34.141s
18. Jimmy Eriksson       Ma-Con Dallara-VW                1m34.223s
19. John Bryant-Meisner  Fortec Motorsport Dallara-Merc   1m34.278s
20. Eddie Cheever        Prema Dallara-Merc               1m34.360s
21. Roy Nissany          Mucke Motorsport Dallara-Merc    1m34.422s
22. Michael Lewis        Mucke Motorsport Dallara-Merc    1m34.500s
23. Sean Gelael          Double R Racing Dallara-Merc     1m34.639s
24. Spike Goddard        T-Sport Dallara-Nissan           1m34.641s
25. Tatiana Calderon     Double R Racing Dallara-Merc     1m35.302s
26. Sandro Zeller        Jo Zeller Racing Dallara-Merc    1m35.913s
27. Michela Cerruti      Romeo Ferraris Dallara-Merc      1m36.568s