Sonoma WTCC: Tiago Monteiro sets testing pace for Honda
| | |
| --- | --- |
| By Sam Tremayne | Saturday, September 7th 2013, 01:09 GMT |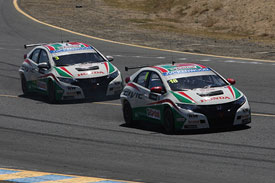 Tiago Monteiro put Honda at the top of the timesheets in World Touring Car Championship testing at Sonoma on Friday.
The 37-year-old set a benchmark 1m46.300s in the closing minutes to finally lockout a top spot that had traded hands several times over the 30-minute session.
Monteiro's Honda stablemates Gabriele Tarquini and Norbert Michelisz also enjoyed spells at the top, but were bumped down to fifth and eighth respectively at the flag.
SEAT's defending champion Rob Huff was second overall, missing out on top spot by just over one tenth of a second.
"It's always good to start a weekend like this, obviously, but it's just a test," Monteiro said.
"The track is very slippery; there's not a lot of grip and so that causes us problems. We managed it OK, but we need to keep working hard."
Chevrolet locked out third and fourth through Pepe Oriola and Tom Chilton, both of whom were more than 0.3s down on Monteiro.
Champion-elect Yvan Muller - who can mathematically seal a fourth WTCC crown this weekend - was seventh, fractions behind the lead BMW of Tom Coronel.
Lada's James Thompson meanwhile missed much of the session after his front-left suspension failed just as he began a lap.
Pos Driver               Team                 Time      Gap        Laps
 1. Tiago Monteiro       Honda                1m46.300s            13
 2. Rob Huff             Munnich SEAT         1m46.432s  +0.132s   11
 3. Pepe Oriola          Tuenti SEAT          1m46.691s  +0.391s   10
 4. Tom Chilton          RML Chevrolet        1m46.829s  +0.529s   13
 5. Gabriele Tarquini    Honda                1m46.840s  +0.540s   12
 6. Tom Coronel          ROAL BMW             1m46.900s  +0.600s   14
 7. Yvan Muller          RML Chevrolet        1m46.936s  +0.636s   12
 8. Norbert Michelisz    Zengo Honda          1m47.169s  +0.869s   12
 9. Mehdi Bennani        Proteam BMW          1m47.269s  +0.969s   14
10. Darryl O'Young       ROAL BMW             1m47.508s  +1.208s   14
11. Michel Nykjaer       Nika Chevrolet       1m47.674s  +1.374s   11
12. Alex MacDowall       Bamboo Chevrolet     1m47.775s  +1.475s   13
13. Hugo Valente         Campos SEAT          1m47.886s  +1.586s   12
14. Fernando Monje       Campos SEAT          1m48.012s  +1.712s   11
15. James Nash           Bamboo Chevrolet     1m48.111s  +1.811s   13
16. Stefano D'Aste       PB BMW               1m48.167s  +1.867s   11
17. James Thompson       Lada                 1m48.424s  +2.124s    9
18. Marc Basseng         Munnich SEAT         1m48.441s  +2.141s   14
19. Charles Ng           Engstler BMW         1m48.863s  +2.563s   13
20. Mikhail Kozlovskiy   Lada                 1m48.903s  +2.603s   14
21. Tom Boardman         Special Tuning SEAT  1m49.425s  +3.125s   11
22. Franz Engstler       Engstler BMW         1m49.609s  +3.309s   12
23. Rene Munnich         Munnich SEAT         1m49.947s  +3.647s   13
24. Fredy Barth          Wiechers BMW         1m50.309s  +4.009s   15