Italian GP: Lewis Hamilton would relish more podium boos
| | |
| --- | --- |
| By Jonathan Noble and Scott Mitchell | Thursday, September 5th 2013, 15:34 GMT |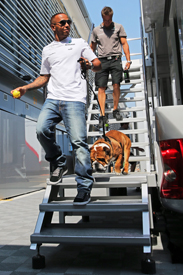 Lewis Hamilton says he would "love" a repeat of the podium jeers that greeted his Italian Grand Prix victory last season.
The Mercedes driver, then at McLaren, was booed on the rostrum having won the race while Ferrari's Fernando Alonso finished third.
Hamilton is unfazed by the prospect of being jeered again at Monza this weekend, and says he would welcome it again if it meant he won the race.
"I would love to have that experience again this year," he said when asked if he was concerned by the thought of facing more boos on the podium.
"If I'm up there and I'm getting booed that means I've won and I definitely want that. Surprisingly there's a lot of support [for Mercedes] here.
"It's probably going to be a long time before all those Ferrari fans change their opinions but that's natural."
Mercedes has brought a revised low-drag package to Monza for this weekend's race in a bid to solve the handling problems that left Hamilton third in Belgium despite starting on pole.
BRAKING ISSUES A CONCERN
The Briton has also struggled with brake balance throughout the year and while he admits the performance of the revised package is crucial, he also believes there is more set-up work to be done if the team is to challenge for victory on Sunday.
"The team's done a lot of analysis to try and understand [the problems at Spa] and I think they have," he added.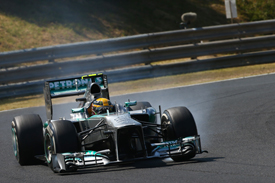 "Whether or not this weekend we'll see the same sort of issues, we'll see, but I think we should see a better weekend for us hopefully.
"The downforce package is most important. It's quite a technical circuit so you do need to have good balance for kerb riding and braking stability, but most important is making sure you have the right gear ratio setting and speed down the straights.
"I think [the brakes] are an area that's still an issue. I'm conscious that could be a difficulty this weekend because braking in the McLaren was always really strong here and there's so much time to gain on the brakes.
"But the team said we can work some things out, so I'm hoping we're going to be strong."