Vijay Mallya: giving F1 seats to pay drivers sends "wrong signal"
| | |
| --- | --- |
| By Edd Straw | Wednesday, September 4th 2013, 08:58 GMT |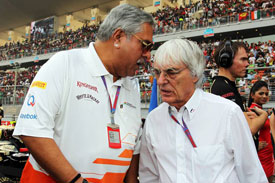 Force India team principal Vijay Mallya has warned that giving Formula 1 seats to pay drivers sends the "wrong signal".
Mallya, who co-owns the Silverstone-based squad, has a policy of not signing drivers purely on the basis of what budget they can bring.
Although Adrian Sutil is believed to bring a small amount of sponsorship to the team, performance was the major consideration in choosing between the German and rookie Jules Bianchi.
During the off-season, it is understood the team conducted a detailed analysis based on the relative performance of the two drivers.
This concluded that the rapid but inexperienced Bianchi might have cost the team a position in the constructors' championship compared to a more experience hand such as Sutil.
"It sends a very wrong signal to the team to take pay drivers," Mallya told AUTOSPORT.
"I consult my engineers and the technical director on the selection of drivers, particularly for 2013 when we had a choice of two and finally we went with Adrian Sutil.
"That was largely because the key technical people in the team said 'let's go with him'.
"I did not want them to feel that all the efforts in producing a competitive car were going to be compromised on track because I had chosen a driver who wasn't the best available drivers.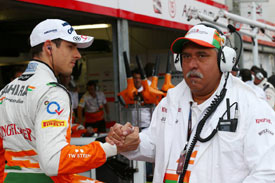 "I've not gone with pay drivers, I've gone with drivers of talent and that policy will stay."
Force India has previously recruited Paul di Resta and Bianchi as third drivers, giving both Friday practice runs to aid their development.
It announced earlier this week that GP2 title contender James Calado will now move into that role after a strong performance in July's young driver test.
"We were very impressed with James Calado," said Mallya.
"In his first time in an F1 car, apart from straightline testing, he did a great job.
"He was number one on my list [for a number three role]."