Will Power takes blame for Scott Dixon IndyCar clash at Baltimore
| | |
| --- | --- |
| By Mark Glendenning | Monday, September 2nd 2013, 15:27 GMT |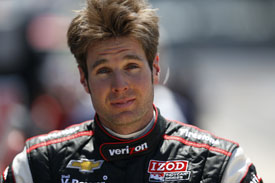 Will Power has taken responsibility for the accident that took championship contender Scott Dixon out of Sunday's IndyCar race at Baltimore.
The Penske driver was moving to the outside of Sebastien Bourdais on a restart, and says that he was unaware that Dixon in turn was moving to the outside of his car.
Power squeezed Dixon into the wall, breaking the Kiwi's suspension and costing him an opportunity to dramatically close the points gap to current leader Helio Castroneves.
It was the second incident between the pair in as many weekends, following on from Dixon's collision with one of Power's pit crew at Sonoma a week earlier.
Dixon did not speak to Power after Sunday's race, and Power said that he was deeply remorseful for causing the accident.
"I feel terrible for him and their whole bloody team," he told AUTOSPORT.
"The guy's been so quick in the last two races... What can you say? It looks bad.
"We were very quick. But I didn't want for it to end up like that."
Power insists that he had no idea that Dixon was alongside him when he moved towards the wall.
"I got a run on Bourdais, and I thought, 'I'm going to get this guy and take the lead', because we knew that he didn't have to pit again.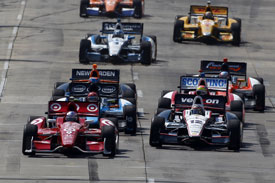 "And I pulled over and then Boom! I'm in the fence and I was like 'What happened?'.
"I thought 'the tyres must be really bad' - I figured that I'd just gone wrong and walled it.
"I got back to the pits and said 'I don't know what happened I just lost it', and they said 'Ah, it looked like Dixon was on your inside.' And that's what happened.
"I did not look in my mirrors. I had such a good run on this guy [Bourdais], I wasn't even thinking that he would have a better run.
"Man, I feel so bad for the guy. I can't say anything."