Knockhill BTCC: Gordon Shedden puts Honda on top in practice
| | |
| --- | --- |
| By Matt James | Saturday, August 24th 2013, 12:05 GMT |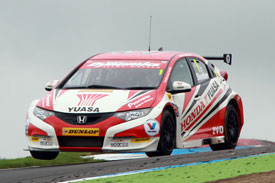 Local hero Gordon Shedden clocked the fastest time over the opening two free practice sessions for this weekend's British Touring Car Championship races at Knockhill.
The 34-year-old put in a 52.582s lap to put his Honda more than a tenth of a second clear of the impressive Adam Morgan in the Ciceley Racing Toyota.
MG man Jason Plato left it late to record the third fastest time, ahead of the Eurotech Honda of Independent ace Andrew Jordan and Shedden's Honda team-mate Matt Neal.
All of the frontrunning drivers recorded faster lap times in the second session of the day amid more favourable conditions.
Sam Tordoff's MG6 was sixth quickest after surviving an off and a puncture during the morning running, while Tom Onslow-Cole turned heads by finishing in seventh place in the Team Hard Volkswagen.
He was the last of the drivers to beat last season's pole time at the 1.2-mile Fife track.
Frank Wrathall underlined the strong showing from Toyota to place his Dynojet Avensis in eighth place.
Rounding out the top 10 were the two Rob Austin Racing Audi A4s. Austin, who had topped the timesheets in the opening session, was the leading rear-wheel-driver runner in ninth, just 0.08s ahead of his team-mate Will Bratt.
After experimenting with different set-ups during the two sessions, former champion Colin Turkington languished in 14th in the WSR BMW.
Practice one:

Pos  Driver            Team/Car           Time         Gap
 1.  Rob Austin        Austin Audi        53.221s
 2.  Adam Morgan       Ciceley Toyota     53.288s  +0.067s
 3.  Matt Neal         Honda              53.308s  +0.087s
 4.  Jason Plato       MG                 53.319s  +0.098s
 5.  Rob Collard       WSR BMW            53.327s  +0.106s
 6.  Andrew Jordan     Eurotech Honda     53.337s  +0.116s
 7.  Nick Foster       WSR BMW            53.348s  +0.127s
 8.  Gordon Shedden    Honda              53.352s  +0.131s
 9.  Dave Newsham      Speedworks Toyota  53.417s  +0.196s
10.  Tom Onslow-Cole   Hard Volkswagen    53.465s  +0.244s
11.  Colin Turkington  WSR BMW            53.514s  +0.293s
12.  Will Bratt        Austin Audi        53.710s  +0.489s
13.  Mike Bushell      IP Tech Chevrolet  53.793s  +0.572s
14.  Aron Smith        Motorbase Ford     53.863s  +0.642s
15.  Sam Tordoff       MG                 53.905s  +0.684s
16.  Frank Wrathall    Dynojet Toyota     53.984s  +0.763s
17.  Paul O'Neill      Hard Vauxhall      54.033s  +0.812s
18.  Mat Jackson       Motorbase Ford     54.139s  +0.918s
19.  Daniel Welch      Welch Proton       54.274s  +1.053s
20.  Ollie Jackson     Speedworks Toyota  54.368s  +1.147s
21.  Lea Wood          Wood Vauxhall      54.879s  +1.658s*
22.  Warren Scott      BMR Volkswagen     54.884s  +1.663s
23.  Kieran Gallagher  Hard Vauxhall      55.264s  +2.043s
24.  Liam Griffin      Motorbase Ford     55.583s  +2.362s*
25.  David Nye         Welch Ford         55.914s  +2.693s*
26.  Aiden Moffat      Finesse Chevrolet  56.143s  +2.922s

* S2000

Practice two:

Pos  Driver            Team/Car           Time         Gap
 1.  Gordon Shedden    Honda              52.582s
 2.  Adam Morgan       Ciceley Toyota     52.700s  +0.118s
 3.  Jason Plato       MG                 52.842s  +0.260s
 4.  Andrew Jordan     Eurotech Honda     52.878s  +0.296s
 5.  Matt Neal         Honda              52.899s  +0.317s
 6.  Sam Tordoff       MG                 52.902s  +0.320s
 7.  Tom Onslow-Cole   Hard Volkswagen    53.013s  +0.431s
 8.  Frank Wrathall    Dynojet Toyota     53.077s  +0.495s
 9.  Rob Austin        Austin Audi        53.165s  +0.583s
10.  Will Bratt        Austin Audi        53.245s  +0.663s
11.  Rob Collard       WSR BMW            53.285s  +0.703s
12.  Paul O'Neill      Hard Vauxhall      53.288s  +0.706s
13.  Mike Bushell      IP Tech Chevrolet  53.319s  +0.737s
14.  Colin Turkington  WSR BMW            53.321s  +0.739s
15.  Aron Smith        Motorbase Ford     53.338s  +0.756s
16.  Ollie Jackson     Speedworks Toyota  53.439s  +0.857s
17.  Daniel Welch      Welch Proton       53.472s  +0.890s
18.  Nick Foster       WSR BMW            53.588s  +1.006s
19.  Mat Jackson       Motorbase Ford     53.784s  +1.202s
20.  Lea Wood          Wood Vauxhall      54.292s  +1.710s*
21.  Warren Scott      BMR Volkswagen     54.456s  +1.874s
22.  Liam Griffin      Motorbase Ford     54.540s  +1.958s*
23.  Kieran Gallagher  Hard Vauxhall      55.094s  +2.512s
24.  David Nye         Welch Ford         55.322s  +2.740s*

* S2000