Belgian GP: Pirelli insists punctures don't mean Silverstone repeat
| | |
| --- | --- |
| By Jonathan Noble | Friday, August 23rd 2013, 15:50 GMT |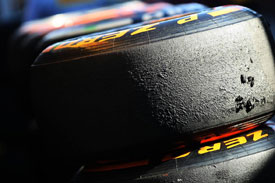 Pirelli has played down fears of another tyre fiasco at the Belgian Grand Prix despite the punctures suffered by Sebastian Vettel and Fernando Alonso on Friday.
The problems encountered by the Red Bull and Ferrari drivers prompted concerns about a potential repeat of what happened at the British Grand Prix - when a series of blow-outs marred the race and prompted Pirelli to revert to last year's construction from Hungary.
But initial inspection of the two tyres by Pirelli suggests that the punctures were caused not by failures but by debris cutting the tyres.

Drivers demand tyre safety guarantees
Pirelli motorsport director Paul Hembery said his engineers were planning a detailed inspection of the track from the Fagnes chicane to the Paul Frere corner where the problems were encountered.
"It looks on the Red Bull as though something has been rubbing on the surface and then has just cut through the surface," explained Hembery.
"On the Ferrari there are two quite clear holes through the top of the tread, so we have to go and look at the track later to go and see what is between Turns 13 and 15."
"We have seen a lot of signs on other tyres, small surface cuts, so there is clearly something. But I cannot tell you what it is - other than it is from external sources.
"[On the Red Bull] something has got caught up between the floor and the tyre."
When asked by AUTOSPORT if there were worries F1 could be headed for a repeat of what happened at Silverstone, Hembery said: "No. It's completely different."
However, Hembery did concede that the situation was not ideal because Pirelli needed to find answers as to what was happening.
"It is a worry for the sport because we have to go out and find what it is," he said. "There is not a lot we can do, but we will try our very best to identify it to give us an indication of what is causing it."