Slovakia FIA GT: Rene Rast's Audi beats Loeb McLarens to pole
| | |
| --- | --- |
| By Gary Watkins | Saturday, August 17th 2013, 15:51 GMT |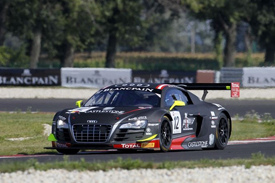 Rene Rast claimed pole position for the WRT Audi squad for the first of this weekend's two FIA GT Series races at the Slovakia Ring.
The German driver set a best time of 2m01.717s in the Audi R8 LMS ultra he shares with Niki Mayr-Melnhof, which put him just over two tenths clear of Mike Parisy in the fastest of the two Sebastien Loeb Racing McLaren MP4-12Cs.
Rast said: "This is my first time at the Slovakia Ring, so I needed a bit of practice. We improved the car session by session and it seemed to work out.
"I must say my lap was good; I didn't make any mistakes."
Audi claimed its first FIA GT pole since the opening weekend of the season at Nogaro after WRT reverted its trio of R8s to 2012 specification.
The move followed the failure of the FIA to alter the Balance of Performance in the wake of the Spa 24 Hours Blancpain Endurance Series round, in which the Audis were off the pace by more than a second a lap.
Rast's Nogaro pole was also set with his Audi in 2012-spec after delays homologating this year's version of the R8.
Alvaro Parente was third fastest in the second of the Loeb McLarens with a time less than a tenth slower than team-mate Parisy.
The Portuguese finished up just ahead of Laurens Vanthoor in the second WRT Audi.

NEWS UPDATE: Three of top four on grid get penalties
Local driver Stefan Rosina was fifth fastest in the best of the Reiter-run Lamborghini Gallardo LP560s.
Both FIA GT races take place on Sunday, with the qualifying race beginning at 10:15am local time (09.15 BST) and the championship race getting underway four hours later. AUTOSPORT will stream both races live.
Pos  Drivers                      Team/Car                  Time       Gap
 1.  Mayr-Melnhof/Rast            WRT Audi                  2m01.717s
 2.  Zuber/Parisy                 Loeb McLaren              2m01.956s  +0.239s
 3.  Loeb/Parente                 Loeb McLaren              2m02.019s  +0.302s
 4.  Ortelli/Vanthoor             WRT Audi                  2m02.095s  +0.378s
 5.  Kox/Rosina                   Reiter Lamborghini        2m02.149s  +0.432s
 6.  Simonsen/Afanasiev           Gravity Charouz Mercedes  2m02.623s  +0.906s
 7.  Khodair/Bueno                Brasil BMW                2m02.791s  +1.074s
 8.  Proczyk/Baumann              Grasser Lamborghini       2m03.044s  +1.327s
 9.  Day/Buhk                     Gravity Charouz Mercedes  2m03.078s  +1.361s
10.  von Thurn und Taxis/Basseng  Reiter Lamborghini        2m03.334s  +1.617s
11.  Sandstrom/Stippler           WRT Audi                  2m03.642s  Q1/Q2
12.  Reip/Buncombe                RJN Nissan                2m03.644s  Q1/Q2
13.  Salaquarda/Onidi             AF Ferrari                2m04.042s  Q1/Q2
14.  Sdanewitsch/Rugolo           AF Ferrari                2m04.428s  Q1/Q2
15.  Chandhok/Seyffarth           Seyffarth Mercedes        2m04.466s  Q1/Q2
16.  Stumpf/Cunha                 Rodrive Lamborghini       2m04.480s  Q1/Q2
17.  Sladecka/Ebrahim             India BMW                 2m04.768s  Q1/Q2
18.  Vieira/Campanico             Novadriver Audi           2m04.862s  Q1/Q2
19.  Zonta/Simenez                Brasil BMW                2m05.933s  Q1/Q2
20.  Charouz/Stovicek             Gravity Charouz Mercedes  2m05.958s  Q1/Q2
21.  Michael/Haupt                Seyffarth Mercedes                   Q1/Q2