Nurburgring Euro F3: Ferrari protege Marciello takes pole hat-trick
| | |
| --- | --- |
| By Peter Mills | Friday, August 16th 2013, 17:10 GMT |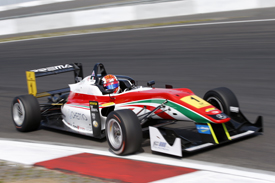 Formula 3 European Championship leader Raffaele Marciello produced a perfect start to his Nurburgring weekend by completing a pole hat-trick for the meeting's three races.
Marciello became the third driver this season to achieve the feat, after Prema team-mate Alex Lynn secured a triple pole lock-out at Brands Hatch and Carlin's Daniil Kvyat mastered both sessions at Spielberg.
Ferrari Driver Academy pupil Marciello was the only driver to break under the 1m23s mark in first qualifying. The Italian moved to the head of the timing screens after demoting Jordan King a quarter of an hour into the 20-minute session, and later lowered his best lap to 1m22.821s.
Marciello's second fastest time of 1m23.039s earned him pole for race two, as the second-fastest lap times from the session determine grid positions for Saturday afternoon's race.
Carlin racer King slipped back to an eventual fourth place. Fellow Briton Alexander Sims, who joined the championship at the preceding Norisring meeting, joins Marciello on the front row for Saturday's first race.
The T-Sport driver ended the session 0.278s adrift of Marciello and just 0.023s clear of third-placed Felix Rosenqvist - Marciello's closest rival in the drivers' standings.
Fortec's Pipo Derani continued his comparative up-turn in form to line-up fifth, ahead of Marciello's Prema Powerteam team-mate Lucas Auer who is set to start from sixth in both Saturday races.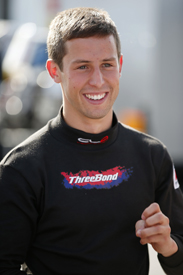 Derani lines-up an impressive third for race two, behind Rosenqvist but successfully edging out experienced junior single-seater hand Sims (pictured).
The second qualifying session initially appeared closely contested, before Marciello sealed his ninth pole position of the season.
A little over half distance there was a spate of fastest laps as Sims, Kvyat, Rosenqvist and Marciello jostled for position.
A lap of 1m22.584s gave Marciello a narrow 0.150s advantage over Auer as the session entered its closing phase, but with a minute left on the clocks Marciello lowered his benchmark to 1m22.416s, moving pole beyond Auer's grasp.
Rosenqvist will start race three from third, ahead of King and Derani.
Double 2013 winner Lynn, who is third in the drivers' standings, was unable to reproduce his usual competitive form and starts from 11th, 13th and 12th.
Race one grid:

Pos  Driver              Team/Car                        Time       Gap
 1.  Raffaele Marciello  Prema Dallara-Merc              1m22.821s
 2.  Alexander Sims      T-Sport Dallara-Nissan          1m23.100s  +0.279s
 3.  Felix Rosenqvist    Mucke Dallara-Merc              1m23.123s  +0.302s
 4.  Jordan King         Carlin Dallara-VW               1m23.191s  +0.370s
 5.  Pipo Derani         Fortec Dallara-Merc             1m23.216s  +0.395s
 6.  Lucas Auer          Prema Dallara-Merc              1m23.377s  +0.556s
 7.  Michael Lewis       Mucke Dallara-Merc              1m23.462s  +0.641s
 8.  Felix Serralles     Fortec Dallara-Merc             1m23.463s  +0.642s
 9.  Sven Muller         Ma-con Dallara-VW               1m23.524s  +0.703s
10.  Harry Tincknell     Carlin Dallara-VW               1m23.542s  +0.721s
11.  Alex Lynn           Prema Dallara-Merc              1m23.542s  +0.721s
12.  Mitchell Gilbert    Mucke Dallara-Merc              1m23.588s  +0.767s
13.  Daniil Kvyat        Carlin Dallara-VW               1m23.637s  +0.816s
14.  Tom Blomqvist       Eurointernational Dallara-Merc  1m23.693s  +0.872s
15.  Nicholas Latifi     Carlin Dallara-VW               1m23.769s  +0.948s
16.  Jann Mardenborough  Carlin Dallara-VW               1m23.870s  +1.049s
17.  Eddie Cheever       Prema Dallara-Merc              1m23.940s  +1.119s
18.  Dennis van de Laar  Van Amersfoort Dallara-VW       1m23.942s  +1.121s
19.  Roy Nissany         Mucke Dallara-Merc              1m23.956s  +1.135s
20.  Antonio Giovinazzi  Double R Dallara-Merc           1m24.062s  +1.241s
21.  Andre Rudersdorf    Ma-con Dallara-VW               1m24.275s  +1.454s
22.  Sean Gelael         Double R Dallara-Merc           1m24.416s  +1.595s
23.  Tatiana Calderon    Double R Dallara-Merc           1m24.485s  +1.664s
24.  Lucas Wolf          URD Dallara-Merc                1m24.601s  +1.780s
25.  Spike Goddard       T-Sport Dallara-Nissan          1m24.831s  +2.010s
26.  Sandro Zeller       Zeller Dallara-Merc             1m24.900s  +2.079s

Race two grid:

Pos  Driver              Team/Car                        Time       Gap
 1.  Raffaele Marciello  Prema Dallara-Merc              1m23.039s
 2.  Felix Rosenqvist    Mucke Dallara-Merc              1m23.207s  +0.168s
 3.  Pipo Derani         Fortec Dallara-Merc             1m23.314s  +0.275s
 4.  Alexander Sims      T-Sport Dallara-Nissan          1m23.370s  +0.331s
 5.  Jordan King         Carlin Dallara-VW               1m23.382s  +0.343s
 6.  Lucas Auer          Prema Dallara-Merc              1m23.406s  +0.367s
 7.  Felix Serralles     Fortec Dallara-Merc             1m23.498s  +0.459s
 8.  Harry Tincknell     Carlin Dallara-VW               1m23.568s  +0.529s
 9.  Michael Lewis       Mucke Dallara-Merc              1m23.641s  +0.602s
10.  Sven Muller         Ma-con Dallara-VW               1m23.645s  +0.606s
11.  Daniil Kvyat        Carlin Dallara-VW               1m23.656s  +0.617s
12.  Mitchell Gilbert    Mucke Dallara-Merc              1m23.698s  +0.659s
13.  Alex Lynn           Prema Dallara-Merc              1m23.750s  +0.711s
14.  Tom Blomqvist       Eurointernational Dallara-Merc  1m23.758s  +0.719s
15.  Jann Mardenborough  Carlin Dallara-VW               1m23.884s  +0.845s
16.  Eddie Cheever       Prema Dallara-Merc              1m23.949s  +0.910s
17.  Dennis van de Laar  Van Amersfoort Dallara-VW       1m23.951s  +0.912s
18.  Roy Nissany         Mucke Dallara-Merc              1m23.984s  +0.945s
19.  Nicholas Latifi     Carlin Dallara-VW               1m24.030s  +0.991s
20.  Antonio Giovinazzi  Double R Dallara-Merc           1m24.209s  +1.170s
21.  Sean Gelael         Double R Dallara-Merc           1m24.497s  +1.458s
22.  Andre Rudersdorf    Ma-con Dallara-VW               1m24.631s  +1.592s
23.  Tatiana Calderon    Double R Dallara-Merc           1m24.702s  +1.663s
24.  Spike Goddard       T-Sport Dallara-Nissan          1m24.844s  +1.805s
25.  Lucas Wolf          URD Dallara-Merc                1m24.906s  +1.867s
26.  Sandro Zeller       Zeller Dallara-Merc             1m25.175s  +2.136s

Race three grid:

Pos  Driver              Team/Car                        Time       Gap
 1.  Raffaele Marciello  Prema Dallara-Merc              1m22.416s
 2.  Lucas Auer          Prema Dallara-Merc              1m22.685s  +0.269s
 3.  Felix Rosenqvist    Mucke Dallara-Merc              1m22.687s  +0.271s
 4.  Jordan King         Carlin Dallara-VW               1m22.775s  +0.359s
 5.  Pipo Derani         Fortec Dallara-Merc             1m22.872s  +0.456s
 6.  Alexander Sims      T-Sport Dallara-Nissan          1m22.892s  +0.476s
 7.  Felix Serralles     Fortec Dallara-Merc             1m22.964s  +0.548s
 8.  Daniil Kvyat        Carlin Dallara-VW               1m22.964s  +0.548s
 9.  Harry Tincknell     Carlin Dallara-VW               1m22.985s  +0.569s
10.  Michael Lewis       Mucke Dallara-Merc              1m23.045s  +0.629s
11.  Mitchell Gilbert    Mucke Dallara-Merc              1m23.070s  +0.654s
12.  Alex Lynn           Prema Dallara-Merc              1m23.100s  +0.684s
13.  Eddie Cheever       Prema Dallara-Merc              1m23.109s  +0.693s
14.  Jann Mardenborough  Carlin Dallara-VW               1m23.323s  +0.907s
15.  Tom Blomqvist       Eurointernational Dallara-Merc  1m23.323s  +0.907s
16.  Sven Muller         Ma-con Dallara-VW               1m23.358s  +0.942s
17.  Dennis van de Laar  Van Amersfoort Dallara-VW       1m23.396s  +0.980s
18.  Antonio Giovinazzi  Double R Dallara-Merc           1m23.612s  +1.196s
19.  Roy Nissany         Mucke Dallara-Merc              1m23.628s  +1.212s
20.  Nicholas Latifi     Carlin Dallara-VW               1m23.638s  +1.222s
21.  Spike Goddard       T-Sport Dallara-Nissan          1m23.696s  +1.280s
22.  Andre Rudersdorf    Ma-con Dallara-VW               1m23.757s  +1.341s
23.  Sandro Zeller       Zeller Dallara-Merc             1m23.887s  +1.471s
24.  Sean Gelael         Double R Dallara-Merc           1m24.093s  +1.677s
25.  Lucas Wolf          URD Dallara-Merc                1m24.097s  +1.681s
26.  Tatiana Calderon    Double R Dallara-Merc           1m24.174s  +1.758s