Kimi Raikkonen tests GP3 car
| | |
| --- | --- |
| By Pablo Elizalde | Friday, August 16th 2013, 15:45 GMT |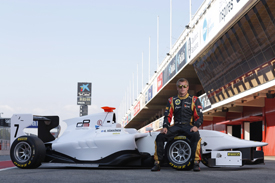 Lotus Formula 1 driver Kimi Raikkonen made a surprise testing appearance at the wheel of a GP3 car on Friday at the Barcelona circuit.
The Finn, currently in second place in the Formula 1 standings behind Sebastian Vettel, took to the Spanish track with the GP3/13 car as part of a development test in preparation for 2014, according to the series.
The test was made possible thanks to Raikkonen's relationship with Koiranen GP team boss Afa Heikkinen.
GP3 organisers said the purpose of the test was to find ways to offer more overtaking possibilities to the drivers in 2014.
Raikkonen completed a total of 58 laps with a best time of 1m34.780s, over half a second slower than the pole position time for this year's race, which took place in May.
"I was curious to see how the car handled and it was actually fun to drive," said the Finn. "There were a few issues regarding its behaviour, but we managed to solve most of them.
"The GP3/13 is a very good tool for young drivers, especially when you have to learn about tyre management like we have in F1."
GP3 Series technical boss Didier Perrin said Raikkonen's feedback had been very valuable.
"We are extremely pleased to have had the opportunity to work with Kimi today," he said.
"His experience and feedback were invaluable and they gave us a better understanding of what needs to be done in order to make our car a better tool in overtaking opportunities for next season.
"He has confirmed all our hypothesis, and together we could start working on two development directions for the end of season testing. We would like to thank Kimi for testing with us today and Koiranen GP for helping make this possible."
REMEMBER WHEN
Schumacher's GP2 test - January 2010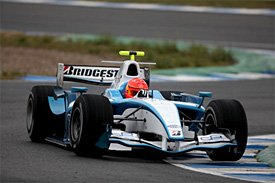 Ahead of his Formula 1 comeback with Mercedes in 2010, seven-time world champion Michael Schumacher spent three days testing the GP2 development car to help get himself back up to speed in single seaters.
While the test was hindered by the weather, Schumacher described the outing as "super" after he was able to get some dry running and complete a Formula 1 race distance.
Schumacher's performance was hailed by the Super Nova engineers running the car on behalf of the series, as he set a best lap four tenths of a second adrift of the 2008 lap record set by Kamui Kobayashi.
AUTOSPORT says
Editor Charles Bradley
On paper, the GP3 Series should be enjoying its best-ever season. A fantastic grid line-up (I'd argue its finest) and a revised car that no longer sounds like a tractor and is substantially quicker than the first generation machine.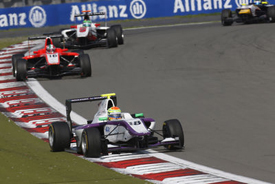 We've been treated to some mesmerising qualifying sessions this year, with every position being fought over tooth and nail to the thousandth of a second. And yet, despite all these positives, the on-track racing action has been bewilderingly poor because the cars can't overtake.
Somewhere, something has gone wrong. And most point to the car's aerodynamics - as soon as you get close to the car in front, drivers report a hugely negative impact on front-end grip.
And with the Pirelli tyres being designed to degrade, any handling imbalance is going to ruin your race if you sit behind a car for too long, which forces drivers to back off from attacking. And drivers sitting back waiting for the car ahead's tyres to go off doesn't make for a great spectacle.
Today's test in Barcelona shows efforts are being made to identify and fix this; it's in everyone's interest to do so. If Kimi Raikkonen can use all his experience to help iron out these issues with 2014 in mind, then good on him.

Related photos