Triple 8 V8 boss leaves for Walkinshaw
| | |
| --- | --- |
| By Matt Beer | Wednesday, August 7th 2013, 11:18 GMT |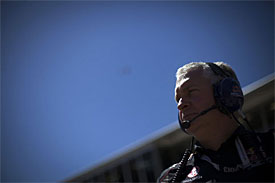 Top V8 Supercars team Triple 8 has lost team principal Adrian Burgess to leading rival Walkinshaw Racing, which runs the Holden Racing Team.
Burgess, who previously worked in Formula 1 with McLaren and Jordan/Midland, oversaw James Courtney's V8 title with Dick Johnson Racing in 2010 before moving to Triple 8, which wrapped up the next two championships with Jamie Whincup.
Triple 8 team owner Roland Dane will return to the team boss role in Burgess's place as he now goes on a six-month period of 'gardening leave' prior to joining Walkinshaw.
Burgess will replace Steve Hallam, another man with an F1 background, at the helm of Walkinshaw/HRT.
Hallam was a race engineer for the likes of Ayrton Senna, Nigel Mansell, Gerhard Berger and Mika Hakkinen during an F1 career that spanned Lotus, Williams and McLaren, where his last role was as senior race engineer.
He has been at Walkinshaw since the start of 2012.
Team chairman Ryan Walkinshaw said Hallam's contribution had been considerable.
"Steve was given the task of rebuilding the organisation, and in a short time he has orchestrated the VF Commodore development and build programme, strengthened our management, restructured various departments and operations, and implemented a range of new processes and strategies," he said.
"Steve will leave the team in a much stronger position and with a restored winning culture.
"Steve and I have discussed the restructuring progress, and both his and the team's long-term futures, and formulated a plan around those.
"We had to ensure the right long-term succession approach and with a limited field of suitable candidates, and interest from one of those candidates, we have brought forward the timeline from that which we had originally identified. Steve will continue in his role until the end of the year."