Mosport ALMS: Pickett's Graf and Level 5's Conway lead qualifying
| | |
| --- | --- |
| By Dan Cross | Saturday, July 20th 2013, 21:13 GMT |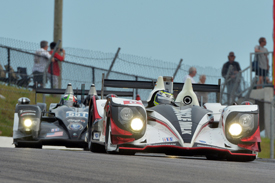 Klaus Graf and Pickett Racing took their second straight American Le Mans Series pole with another dominant performance at Mosport Park, while SRT Viper topped GT.
Graf set the fastest overall time with a lap of 1m05.871s.
Second quickest was Level 5's lead LMP2 HPD, as ALMS debutant Mike Conway showed his class while standing in for Ryan Briscoe.
Marino Franchitti was third in the sister car while Dyson Racing was back in fourth as Tony Burgess - who joins Chris McMurry in a reshuffled driver line-up for the next three events - could only muster a time of 1m09.564s.
Johannes van Overbeek set the third fastest lap in the LMP2 class, ahead of the DeltaWing experimental prototype.
Colin Braun got down to business early in the LMPC segment of qualifying and reeled off a succession of quick laps, culminating in a session fastest time of 1m10.441s.
The CORE driver was demoted to second in class, however, after Mike Gausch crashed heavily at Turn 3 shortly before the 10-minute mark and brought out the red flags.
Gausch had been sitting at the bottom of the timesheets when the incident occurred, but due to the session not meeting the required running time, he now starts the race at the front of the class with the order being set by current championship positions.
Bruno Junqueira's on-the-road third place for RSR still remains.
SRT VIPER TAKES FIRST GT POLE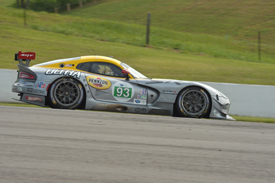 SRT Viper took class honours and in doing so claimed the marque's first pole in over a decade as Jonathan Bomarito also set the quickest ever GT lap time at Mosport.
His 1m15.462s was set moments before Jan Magnussen crashed heavily into the Turn 3 tyre wall to bring out the red flag.
The Corvette driver managed to extract himself from the vehicle under his own steam and he finished the session in second, with the other SRT viper of Marc Goossens in third.
Jeroen Bleekemolen clinched GTC pole for Alex Job Racing after trading quickest lap times with NGT Motorsport's Sean Edwards through the majority of the session.
The Dutchman emerged victorious with a time of 1m21.310s, with Edwards 0.2s adrift and Spencer Pumpelly rounding off the top three.
Pos  Cl   Drivers                 Team/Car                   Time       Gap
 1.  P1   Graf/Luhr               Pickett HPD                1m05.871s
 2.  P1   Burgess/McMurry         Dyson Lola-Mazda           1m09.564s  +3.693s
 3.  P1   Meyrick/Legge           DeltaWing                  1m10.531s  +4.660s
 4.  P2   Tucker/Conway           Level 5 HPD                1m08.785s
 5.  P2   Tucker/Franchitti       Level 5 HPD                1m09.031s  +0.246s
 6.  P2   Brown/van Overbeek      Extreme Speed HPD          1m09.740s  +0.955s
 7.  P2   Sharp/Cosmo             Extreme Speed HPD          1m10.850s  +2.065s
 8.  PC   Guasch/Cheng/Cameron    PR1 Mathiasen FLM
 9.  PC   Bennett/Braun           CORE FLM
10.  PC   Junqueira/Ende          RSR FLM
11.  PC   Nunez/Shears            Performance Tech FLM
12.  PC   Marcelli/Cumming        BAR1 FLM
13.  PC   Drissi/Mitchell         BAR1 FLM
14.  PC   Schultis/van der Zande  DragonSpeed FLM
15.  GT   Bomarito/Wittmer        SRT Viper                  1m15.462s
16.  GT   Magnussen/Garcia        Corvette                   1m15.601s  +0.139s
17.  GT   Farnbacher/Goossens     SRT Viper                  1m15.635s  +0.173s
18.  GT   Müller/Hand             RLL BMW                    1m15.672s  +0.210s
19.  GT   Auberlen/Martin         RLL BMW                    1m15.726s  +0.264s
20.  GT   Gavin/Milner            Corvette                   1m16.083s  +0.621s
21.  GT   Long/Kimber-Smith       CORE Porsche               1m16.407s  +0.945s
22.  GT   Miller/Holzer           Miller Porsche             1m16.730s  +1.268s
23.  GT   Henzler/Sellers         Falken Porsche             1m16.976s  +1.514s
24.  GT   Keen/Bell               West/AJR Ferrari           1m17.039s  +1.577s
25.  GTC  MacNeil/Bleekemolen     Alex Job Porsche           1m21.310s
26.  GTC  Cisneros/Edwards        NGT Porsche                1m21.540s  +0.230s
27.  GTC  Canache/Pumpelly        Flying Lizard Porsche      1m21.924s  +0.614s
28.  GTC  Dempsey/Lally           Dempsey Del Piero Porsche  1m21.930s  +0.620s
29.  GTC  Neiman/von Moltke       Flying Lizard Porsche      1m22.022s  +0.712s
30.  GTC  Keating/Faulkner        TRG Porsche                1m22.182s  +0.872s
31.  GTC  Popow/Dalziel           TRG Porsche                1m22.581s  +1.271s
32.  GTC  Hedlund/Heylen          JDX Porsche                1m22.885s  +1.575s

Grid ordered in class groups
LMPC set on championship points due to red flags