Algarve Superstars: Liuzzi dominates practice sessions
| | |
| --- | --- |
| By Andrew van Leeuwen | Saturday, July 20th 2013, 12:16 GMT |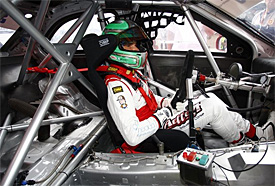 Tonio Liuzzi dominated both practice sessions at Algarve, as the fifth round of the Superstars International Series got underway.
The Romeo Ferraris Mercedes driver left his run late in both half-hour sessions, his fastest times coming in the closing minutes on both occasions.
His free practice two effort was particularly strong, the ex-Formula 1 driver topping the times by a whopping 1.023s thanks to a 1m52.537s best with just four minutes left in the session.
Gianni Morbidelli had a solid morning in the Audi Sport Italia RS5, backing up fourth place in free practice one with the second fastest time in the second session.
Luigi Ferrara was consistent, going third fastest in both sessions, while Thomas Biagi slipped from second in FP1 to fifth in FP2, one place behind the Petri Corse Porsche of Fabrizio Giovanardi.
Team Dinamic pair Max Mugelli and Giovanni Berton were the best of the BMWs across the two sessions, Mugelli going fifth fastest in FP1, while Berton was sixth fastest in FP2.
Trofeo Abarth regular Jonathan Giacon, who is on debut in Superstars in an Adria Racing Audi RS4, enjoyed an encouraging start, finishing the second session 10th fastest, having been 11th in FP1.

Practice one

Pos Driver                Team/Car            Time      Gap      Laps
 1. Tonio Liuzzi          Ferraris Mercedes   1m52.886s           12
 2. Thomas Biagi          Ferraris Mercedes   1m52.913s  +0.027s  13
 3. Luigi Ferrara         Roma Mercedes       1m53.122s  +0.236s  9
 4. Gianni Morbidelli     Audi Italia         1m53.449s  +0.563s  12
 5. Max Mugelli           Dinamic BMW         1m53.964s  +1.078s  13
 6. Francesco Sini        Solaris Chevrolet   1m54.670s  +1.784s  13
 7. Giovanni Berton       Dinamic BMW         1m54.687s  +1.801s  11
 8. Fabrizio Giovanardi   Petri Porsche       1m54.999s  +2.113s  11
 9. Mauro Trentin         Dinamic BMW         1m56.704s  +3.818s  14
10. 'Diabolik'            Adria Jaguar        1m57.214s  +4.328s   9
11. Jonathan Giacon       Adria Audi          1m57.279s  +4.393s  12
12. Christian Montanari   Adria Jaguar        1m57.473s  +4.587s   8
13. Andrea Bacci          CAAL Mercedes       1m57.647s  +4.761s  13
14. Alessandro Battaglin  Adria Audi          1m58.432s  +5.546s  8
15. Gianni Giudici        Giudici BMW         1m58.495s  +5.609s  12
16. Marco Fumagalli       Giudici BMW         2m01.688s  +8.802s  12

Practice two

Pos Driver                Team/Car             Time     Gap      Laps
 1. Tonio Liuzzi          Ferraris Mercedes    1m52.537           10
 2. Gianni Morbidelli     Audi Italia          1m53.560  +1.023s  10
 3. Luigi Ferrara         Roma Mercedes        1m53.597  +1.060s  11
 4. Fabrizio Giovanardi   Petri Porsche        1m53.677  +1.140s  9
 5. Thomas Biagi          Ferraris Mercedes    1m53.833  +1.296s  11
 6. Giovanni Berton       Dinamic BMW          1m54.076  +1.539s  13
 7. Max Mugelli           Dinamic BMW          1m54.724  +2.187s  14
 8. Andrea Bacci          CAAL Mercedes        1m56.986  +4.449s  13
 9. Christian Montanari   Adria Jaguar         1m57.141  +4.604s   8
10. Jonathan Giacon       Adria Audi           1m57.295  +4.758s  13
11. Mauro Trentin         Dinamic BMW          1m57.375  +4.838s  10
12. 'Diabolik'            Adria Jaguar         1m58.434  +5.897s   8
13. Alessandro Battaglin  Adria Audi           1m59.518  +6.981s   9
14. Gianni Giudici        Giudici BMW          1m59.607  +7.070s  11
15. Marco Fumagalli       Giudici BMW          2m01.221  +8.684s  13
16. Francesco Sini        Solaris Chevrolet                        2