Norisring European 3: Felix Rosenqvist ends tough weekend with win
| | |
| --- | --- |
| By Marcus Simmons | Sunday, July 14th 2013, 10:24 GMT |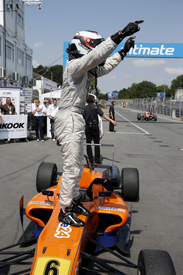 Felix Rosenqvist defeated Raffaele Marciello in the final race of the Formula 3 European Championship weekend at the Norisring to make a further dent in the Ferrari protege's series lead.
Rosenqvist had to defend from Alex Lynn into the first hairpin as Marciello got away in the lead from pole position, but the Swede then made inroads into the Italian's initial advantage.
After a couple of tentative looks, Rosenqvist made his decisive move on the 14th lap, moving to the outside of Marciello down to the first hairpin.
Marciello overshot on the brakes as he defended the inside line, letting the Mucke Motorsport Dallara-Mercedes into the lead and almost allowing Prema team-mate Alex Lynn into second.
While Rosenqvist set a searing pace to move clear, Marciello had to hold off Lynn, until an error by the Englishman with eight laps to go let him off the hook.
"It was a perfect race," said Rosenqvist. "I felt already in the first laps that I had good pace, and I put pressure on Raffaele.
"I had an amazing car today. It's been a big rollercoaster this weekend [Rosenqvist was initially racing under appeal] - one to remember in many ways!"
A spectacular fight for fourth went the way of EuroInternational's Tom Blomqvist, who spent his whole race defending from either Alexander Sims or Lucas Auer.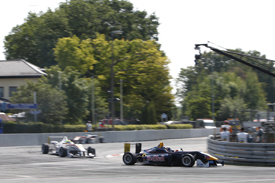 Auer did slight damage to his front wing when he tapped Blomqvist at the hairpin, but managed to fight back ahead of Sims until the final lap, when constant pressure from the Englishman paid off and the Three Bond/Nissan-powered T-Sport Dallara slipped ahead at the very last corner.
Pipo Derani took advantage of Carlin team-mates Harry Tincknell and Daniil Kvyat outbraking each other - and themselves - to slip into seventh.
As Kvyat faded and eventually retired, Tincknell took eighth from Jordan King, with Sven Muller completing the points scorers after a great move on Nick Cassidy.
There were several incidents but none resulted in safety cars. Nicholas Latifi ran into Michael Lewis at the hairpin; Antonio Giovinazzi and Lucas Wolf tangled; while Felix Serralles assaulted Jann Mardenborough and Roy Nissany spun off in sympathy. Mardenborough continued with his rear wing askew to finish 12th.
Results - 42 laps:

Pos  Driver              Team/Car                          Time/Gap
 1.  Felix Rosenqvist    Mucke Dallara-Merc              34m12.917s
 2.  Raffaele Marciello  Prema Dallara-Merc                 +4.993s
 3.  Alex Lynn           Prema Dallara-Merc                 +9.377s
 4.  Tom Blomqvist       EuroInternational Dallara-Merc    +12.024s
 5.  Alexander Sims      T-Sport Dallara-Nissan            +13.579s
 6.  Lucas Auer          Prema Dallara-Merc                +13.733s
 7.  Pipo Derani         Fortec Dallara-Merc               +16.433s
 8.  Harry Tincknell     Carlin Dallara-VW                 +17.248s
 9.  Jordan King         Carlin Dallara-VW                 +17.944s
10.  Sven Muller         Ma-con Dallara-VW                 +22.433s
11.  Nick Cassidy        EuroInternational Dallara-Merc    +23.712s
12.  Jann Mardenborough  Carlin Dallara-VW                 +33.993s
13.  Dennis van de Laar  Van Amersfoort Dallara-VW         +34.627s
14.  Eddie Cheever       Prema Dallara-Merc                +34.985s
15.  Sean Gelael         Double R Dallara-Merc             +41.453s
16.  Spike Goddard       T-Sport Dallara-Nissan            +42.154s
17.  Mitch Gilbert       Mucke Dallara-Merc                +43.312s
18.  Andre Rudersdorf    Ma-con Dallara-VW                 +43.609s
19.  Lucas Wolf          URD Dallara-Merc                    +1 lap
20.  Michela Cerruti     Ferraris Dallara-Merc               +1 lap

Retirements:

     Felix Serralles     Fortec Dallara-Merc                36 laps
     Roy Nissany         Mucke Dallara-Merc                 35 laps
     Daniil Kvyat        Carlin Dallara-VW                  25 laps
     Antonio Giovinazzi  Double R Dallara-Merc              11 laps
     Sandro Zeller       Zeller Dallara-Merc                10 laps
     Michael Lewis       Mucke Dallara-Merc                  3 laps
     Nicholas Latifi     Carlin Dallara-VW                   3 laps
     Tatiana Calderon    Double R Dallara-Merc               0 laps