Norisring Euro F3: Marciello and Rosenqvist share poles
| | |
| --- | --- |
| By Marcus Simmons | Friday, July 12th 2013, 17:20 GMT |
Formula 3 European Championship title protagonists Raffaele Marciello and Felix Rosenqvist have shared the pole positions after qualifying at the Norisring.
Swede Rosenqvist topped the first session by just one thousandth of a second from Ferrari protege Marciello, with Felix Serralles a further one thousandth adrift.
On second-best times, which determine the grid for race two, Marciello heads Prema team-mate Alex Lynn (who was just 0.007s off the fastest overall lap time) and Rosenqvist.
In second qualifying, which decides the grid for race three, Italian Marciello got an absolutely perfect lap, thanks to a monster tow from Sandro Zeller, to finish two tenths ahead of Rosenqvist, with Lynn third.
"I got the perfect slipstream," admitted Marciello. "It was difficult for me to do better. I took a bit in the first sector, a bit in the second, a bit in the third and a lot in the last!
"Also, I had a very good balance under braking with the car, and this is very important at the Norisring."
Rosenqvist was happy enough with his pole lap, but even more satisfied with his performance in second qualifying, in which he did not get pole.
"In the first session I wasn't really getting into the rhythm so good - I struggled with traffic but then found a good tow from Alex," he said.
"In the second I didn't get a tow, so I'm happier with that, especially as we are going into a weekend on a circuit that is not my favourite."
As well as Serralles, other competitors to get second-row grid positions include Alexander Sims, who made a strong return to F3 with T-Sport, and Tom Blomqvist.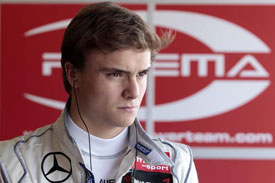 Lucas Auer was the best performing Norisring rookie, taking two third-row places.
After headline-making pace in free practice, the Carlin squad fell off the pace a touch in qualifying, but still ended as the top Volkswagen team, with Harry Tincknell taking a best grid placing of sixth.
Practice pacesetter Daniil Kvyat has a fourth-row start as his best result.
Serralles's Fortec team-mate Pipo Derani scored a hat-trick of fifth-row starts, while a superb F3 debut from newboy Nick Cassidy placed him ninth in opening qualifying.
Of the other Brits, Jordan King's best starting position is 11th and Jann Mardenborough's is 18th.
Race one grid

Pos Driver              Team/car                        Time     Gap  
 1. Felix Rosenqvist    Mucke Dallara-Merc              48.997s
 2. Raffaele Marciello  Prema Dallara-Merc              48.998s  +0.001
 3. Felix Serralles     Fortec Dallara-Merc             48.999s  +0.002
 4. Alex Lynn           Prema Dallara-Merc              49.004s  +0.007
 5. Alexander Sims      T-Sport Dallara-Nissan          49.027s  +0.030
 6. Lucas Auer          Prema Dallara-Merc              49.095s  +0.098
 7. Tom Blomqvist       Eurointernational Dallara-Merc  49.200s  +0.203
 8. Harry Tincknell     Carlin Dallara-VW               49.251s  +0.254
 9. Nick Cassidy        EuroInternational Dallara-Merc  49.296s  +0.299
10. Pipo Derani         Fortec Dallara-Merc             49.310s  +0.313
11. Roy Nissany         Mucke Dallara-Merc              49.349s  +0.352
12. Jordan King         Carlin Dallara-VW               49.355s  +0.358
13. Michael Lewis       Mucke Dallara-Merc              49.365s  +0.368
14. Antonio Giovinazzi  Double R Dallara-Merc           49.369s  +0.372
15. Lucas Wolf          URD Dallara-Merc                49.404s  +0.407
16. Sven Muller         Ma-con Dallara-VW               49.415s  +0.418
17. Daniil Kvyat        Carlin Dallara-VW               49.421s  +0.424
18. Nicholas Latifi     Carlin Dallara-VW               49.430s  +0.433
19. Eddie Cheever       Prema Dallara-Merc              49.455s  +0.458
20. Mitchell Gilbert    Mucke Dallara-Merc              49.464s  +0.467
21. Jann Mardenborough  Carlin Dallara-VW               49.522s  +0.525
22. Dennis van de Laar  Van Amersfoort Dallara-VW       49.574s  +0.577
23. Sean Gelael         Double R Dallara-Merc           49.678s  +0.681
24. Sandro Zeller       Zeller Dallara-Merc             49.726s  +0.729
25. Spike Goddard       T-Sport Dallara-Nissan          49.828s  +0.831
26. Tatiana Calderon    Double R Dallara-Merc           50.081s  +1.084
27. Andre Rudersdorf    Ma-con Dallara-VW               50.244s  +1.247
28. Michela Cerruti     Ferraris Dallara-Merc           50.356s  +1.359

Race two grid

Pos Driver              Team/car                        Time     Gap  
 1. Raffaele Marciello  Prema Dallara-Merc              49.016s  
 2. Alex Lynn           Prema Dallara-Merc              49.090s +0.074s
 3. Felix Rosenqvist    Mucke Dallara-Merc              49.149s +0.059s
 4. Alexander Sims      T-Sport Dallara-Nissan          49.158s +0.009s
 5. Felix Serralles     Fortec Dallara-Merc             49.175s +0.017s
 6. Harry Tincknell     Carlin Dallara-VW               49.254s +0.079s
 7. Lucas Auer          Prema Dallara-Merc              49.259s +0.005s
 8. Tom Blomqvist       Eurointernational Dallara-Merc  49.269s +0.010s
 9. Pipo Derani         Fortec Dallara-Merc             49.311s +0.042s
10. Nick Cassidy        EuroInternational Dallara-Merc  49.403s +0.092s
11. Jordan King         Carlin Dallara-VW               49.422s +0.019s
12. Michael Lewis       Mucke Dallara-Merc              49.439s +0.017s
13. Roy Nissany         Mucke Dallara-Merc              49.444s +0.005s
14. Daniil Kvyat        Carlin Dallara-VW               49.446s +0.002s
15. Sven Muller         Ma-con Dallara-VW               49.463s +0.017s
16. Antonio Giovinazzi  Double R Dallara-Merc           49.467s +0.004s
17. Nicholas Latifi     Carlin Dallara-VW               49.471s +0.004s
18. Eddie Cheever       Prema Dallara-Merc              49.520s +0.049s
19. Jann Mardenborough  Carlin Dallara-VW               49.524s +0.004s
20. Lucas Wolf          URD Dallara-Merc                49.526s +0.002s
21. Mitchell Gilbert    Mucke Dallara-Merc              49.585s +0.059s
22. Dennis van de Laar  Van Amersfoort Dallara-VW       49.618s +0.033s
23. Sean Gelael         Double R Dallara-Merc           49.724s +0.106s
24. Sandro Zeller       Zeller Dallara-Merc             49.748s +0.024s
25. Spike Goddard       T-Sport Dallara-Nissan          49.957s +0.209s
26. Tatiana Calderon    Double R Dallara-Merc           50.121s +0.164s
27. Andre Rudersdorf    Ma-con Dallara-VW               50.338s +0.217s
28. Michela Cerruti     Ferraris Dallara-Merc           50.429s +0.091s

Race three grid

Pos Driver              Team/car                        Time     Gap  
 1. Raffaele Marciello  Prema Dallara-Merc              48.567s
 2. Felix Rosenqvist    Mucke Dallara-Merc              48.761s  +0.194s
 3. Alex Lynn           Prema Dallara-Merc              48.797s  +0.230s
 4. Tom Blomqvist       Eurointernational Dallara-Merc  48.860s  +0.293s
 5. Lucas Auer          Prema Dallara-Merc              48.891s  +0.324s
 6. Alexander Sims      T-Sport Dallara-Nissan          48.931s  +0.364s
 7. Harry Tincknell     Carlin Dallara-VW               48.973s  +0.406s
 8. Daniil Kvyat        Carlin Dallara-VW               48.994s  +0.427s
 9. Pipo Derani         Fortec Dallara-Merc             49.016s  +0.449s
10. Felix Serralles     Fortec Dallara-Merc             49.018s  +0.451s
11. Jordan King         Carlin Dallara-VW               49.019s  +0.452s
12. Roy Nissany         Mucke Dallara-Merc              49.154s  +0.587s
13. Michael Lewis       Mucke Dallara-Merc              49.169s  +0.602s
14. Lucas Wolf          URD Dallara-Merc                49.181s  +0.614s
15. Nick Cassidy        EuroInternational Dallara-Merc  49.182s  +0.615s
16. Sven Muller         Ma-con Dallara-VW               49.235s  +0.668s
17. Antonio Giovinazzi  Double R Dallara-Merc           49.261s  +0.694s
18. Jann Mardenborough  Carlin Dallara-VW               49.277s  +0.710s
19. Nicholas Latifi     Carlin Dallara-VW               49.280s  +0.713s
20. Mitchell Gilbert    Mucke Dallara-Merc              49.301s  +0.734s
21. Dennis van de Laar  Van Amersfoort Dallara-VW       49.336s  +0.769s
22. Sean Gelael         Double R Dallara-Merc           49.389s  +0.822s
23. Eddie Cheever       Prema Dallara-Merc              49.397s  +0.830s
24. Spike Goddard       T-Sport Dallara-Nissan          49.494s  +0.927s
25. Sandro Zeller       Zeller Dallara-Merc             49.505s  +0.938s
26. Andre Rudersdorf    Ma-con Dallara-VW               49.513s  +0.946s
27. Tatiana Calderon    Double R Dallara-Merc           49.764s  +1.197s
28. Michela Cerruti     Ferraris Dallara-Merc           50.006s  +1.439s