British GP: Mark Webber doubts front row Mercedes pair will fade
| | |
| --- | --- |
| By Jonathan Noble and Pablo Elizalde | Saturday, June 29th 2013, 15:56 GMT |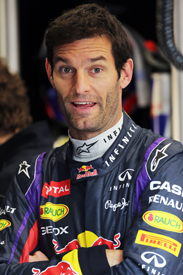 Mark Webber believes Mercedes is a real threat for victory in the British Grand Prix, despite the team playing down its chances after securing a commanding pole.
Lewis Hamilton and Nico Rosberg secured a front-row lockout for Mercedes, the Briton finishing over half a second quicker than Red Bull's Sebastian Vettel and Webber.
The Mercedes duo said it would be hard to keep Red Bull behind given its tyre struggles in the race.
Webber, however, said he was not convinced by Mercedes' apparent worries.
"Not really," said Webber when asked if he expected Mercedes to fade away in the race. "Lewis was pretty sensible in Montreal. The last time they raced on this type of circuit was Barcelona, and they got lapped. That is not going to happen.
"I think they did pretty well at that test, to be fair. They have moved the bar up for themselves a big chunk on Sundays - anyway... that is the way it went.
"We are not expecting them to be too slow tomorrow. They will be OK, but we will put pressure on them at the stops and through the stints themselves."
Webber, who was less than two tenths off second place, believes he could have set a better time had his lap been cleaner.
"I would have liked to have a better finish to the lap. There was a better time there, but I think Nico would have been difficult to get," he said.
The Australia is nonetheless confident of a strong performance in the race.
"The car is going pretty well here," he said. "I think we have a good balance – not car balance, but balance between qualifying and race, as we will find out tomorrow."