Lotus agrees to modify suspension for the German Grand Prix
| | |
| --- | --- |
| By Jonathan Noble | Saturday, June 29th 2013, 12:21 GMT |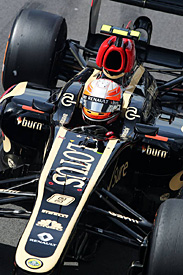 Lotus will make small modifications to its suspension for the next race at Germany following a rules clarification from the FIA.
AUTOSPORT has learned that McLaren asked the governing body at the British Grand Prix whether or not the design of the Lotus suspension was allowed.
Although the Woking-based team declined to comment on the matter, it is understood the issue relates to the maximum number of suspension components that can be connected together for an upright.
Article 10.5.2 of F1's Technical Regulations states: "The loads from the suspension members and wheel bearings must individually and entirely be carried by the suspension upright.
"Exceptionally up to three suspension members may be connected together by titanium, aluminium alloy or steel components before their load is passed into the upright."
It is suggested that the Lotus design could be interpreted as having four suspension members connected together, rather than the maximum three.
The Lotus view of this regulation was different to that of McLaren's and, following an investigation by the FIA, it has been agreed that modifications will be made for the German Grand Prix.
Lotus sources have indicated that the required changes to conform to the FIA's clarification are minor, and will not affect the competitiveness of the car.