Mercedes newcomer Paddy Lowe says no awkwardness with Ross Brawn
| | |
| --- | --- |
| By Jonathan Noble | Friday, June 28th 2013, 18:44 GMT |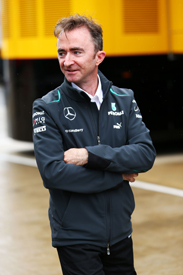 Paddy Lowe says there is no awkwardness between himself and Ross Brawn at Mercedes, even though he has arrived at the squad with long term plans to become its new team principal.
The former McLaren technical director has been lined up as current boss Brawn's eventual successor, but in the interim has joined Mercedes as its executive director (technical).
Although making no secret of the fact that he feels ready to replace Brawn when the time is right, Lowe says he is fully focused on working with him right now.
"When I arrived on the Monday four weeks ago, the first person to greet me and spend an hour with a cup of coffee was Ross," said Lowe at the British Grand Prix on Friday, as he made his first appearance at an F1 race this year.
"He was genuinely delighted to see my arrival and get me stuck into the business. I think that will give you a sign that he is not threatened by my position.
"He is very happy that I joined the company. I am very happy to work with him. I have known and had huge respect for Ross for 20 or more years; although unfortunately normally he has been mostly beating the team I was with!"
Lowe said that no decision had been made yet on when Brawn would move on from his current role, and said he was happy to bide his time and work within the current infrastructure.
"Ross is team principal at the moment," explained Lowe. "We don't know how long he will want to remain team principal. Those plans are not made.
"I have come in to strengthen the team in its existing form, which I can do. There is a great deal to be done and I have already started to augment what we have got.
"What the future brings in terms of progression from there remains to be seen. It is not set or defined at the moment."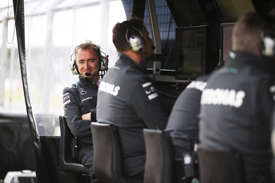 When asked by AUTOSPORT if he would feel ready to step up if Brawn decided to move aside as soon as the end of 2013, Lowe said: "I would be fine with that if that is how it turns out.
"I think I have got what it takes to take that on. We have got Toto [Wolff, Mercedes motorsport boss] as well, who is a great asset to the team.
"I actually really enjoy working with Toto. He has a very refreshing attitude. He is very good in the commercial space and he respects my ability in the technical space so we are already working well on that basis."