FIA toughens up Formula 1 testing controls after Mercedes row
| | |
| --- | --- |
| By Jonathan Noble | Thursday, June 27th 2013, 12:22 GMT |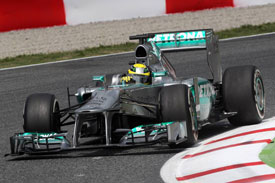 Formula 1 teams now have to give the FIA at least a fortnight's notice of future testing plans, AUTOSPORT has learned, as part of a clampdown on policing out of event running by the governing body.
In the wake of last week's International Tribunal hearing into the Mercedes secret Pirelli test after the Spanish Grand Prix, the FIA made it clear that it wanted to tighten up its control of testing.
Team sources have confirmed reports, which first emerged in the Italian media, that F1 race director Charlie Whiting wrote to all F1 competitors earlier this week telling them that they must now give more comprehensive warning of testing plans.
In the email, a copy of which has been seen by AUTOSPORT, Whiting tells teams that the FIA now requires at least two week's notice of any testing plans.
As part of the new process, the teams have to inform the governing body of the location of the test, the specification of the car that will be used, the names of the drivers and the reasons for the running.
Whiting's push for more information from the teams comes as a result of the FIA having had no formal notification from Mercedes and Pirelli over the post-Spanish GP test, nor or Ferrari's Pirelli tests in 2012 and earlier this year.
Mercedes team principal Ross Brawn told AUTOSPORT earlier this week that he felt a clampdown by the FIA was needed, because the area of testing had got out of control.
"The FIA are now looking at the whole issue, and not just this particular issue," he said.
"Teams have been doing filming days at Idiada - can you explain that one to me?
"The whole issue of testing has slipped over the years and now needs correcting, and we all need to have a clear picture for the benefit of everyone.
"The FIA will take this opportunity to rebase all the testing and other activities that teams do, although next year will be a little easier than at the moment as it is anticipated there will be organised full test days."