LM24 H18: Audi still ahead amid safety-car running
| | |
| --- | --- |
| By Jamie O'Leary | Sunday, June 23rd 2013, 07:02 GMT |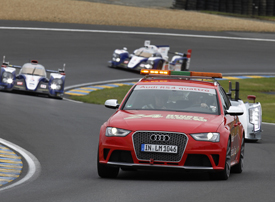 Audi's Tom Kristensen stretched his lead of the Le Mans 24 Hours to nearly two laps during the 18th hour as two safety-car periods caused a significant delay to the second-placed Toyota of Stephane Sarrazin.
Kristensen was a lap clear and pulling away when Bill Auberlen's #98 GTE Pro Aston Martin stopped by the side of the track, a mechanical problem causing the Vantage GTE to drop a lot of oil at the Esses.
Sarrazin made his 22nd pitstop of the race under the resultant caution, but spent a total of three minutes in the pits after being forced to queue up before exiting while a train of cars waited for the safety car to come past at slow speed.
The Frenchman is a lap ahead of Alex Wurz in the sister #7 machine; the Austrian's advantage over the chasing Lucas di Grassi being increased after the Audi driver pitted.
Andrea Belicchi caused the second safety car after he crashed the #13 Rebellion Lola-Toyota exiting the second Mulsanne chicane less than half a lap after racing had resumed.
His car was being worked on in the pits as the hour ticked over, meaning Belicchi has lost fifth place to Marcel Fassler's recovering #1 Audi.
To round off a thoroughly miserable hour for the Rebellion squad, the #12 car dropped from seventh to 12th after Neel Jani's machine needed repairs to an oil leak and a slipping clutch.
The first safety car was of benefit to Aston Martin as Bruno Senna, who had fallen 30s behind Richard Lietz's Porsche during the pitstop cycle, was able to close onto the tail of the #92 Manthey-run machine.
Senna, who has made two more pitstops than Lietz, then found himself leading when his rival spun at the Dunlop chicane just after the safety car had pulled in.
Lietz's spin briefly delayed the #97 Aston of Peter Dumbreck, meaning that the #91 Porsche of Timo Bernhard was able to assume second, ahead of the Scot. Lietz has since pitted to hand over to Marc Lieb.
GTE Am continues to be led by Christophe Bourret's #76 Imsa Porsche while the battle for victory in LMP2 will continue between the OAK Morgan-Nissans of leader Ricardo Gonzalez and second-placed David Heinemeier Hansson once the safety car pulls in.
POSITIONS AFTER 18 HOURS

Pos Cl      Car       Drivers                         Laps  Gap
 1. P1  #2  Audi      Kristensen/McNish/Duval         263   
 2. P1  #8  Toyota    Davidson/Sarrazin/Buemi         261   +     1 Lap
 3. P1  #7  Toyota    Wurz/Lapierre/Nakajima          261   + 2m41.404s
 4. P1  #3  Audi      Gene/Jarvis/di Grassi           260   +    3 Laps
 5. P1  #13 Lola      Beche/Belicchi/Cheng            252   +   11 Laps
 6. P1  #1  Audi      Lotterer/Treluyer/Fassler       252   + 16m44.836s
 7. P1  #21 HPD       Leventis/Kane/Watts             251   +   12 Laps
 8. P2  #35 Morgan    Baguette/Plowman/Gonzalez       247   +   16 Laps
 9. P2  #24 Morgan    Pla/Brundle/H Hansson           247   + 4m41.164s
10. P2  #42 Zytek     Krumm/Mardenborough/Ordonez     246   +   17 Laps
11. P2  #26 Oreca     Rusinov/Martin/Conway           246   + 2m47.992s
12. P1  #12 Lola      Prost/Jani/Heidfeld             245   +   18 Laps
13. P2  #49 Oreca     P-Companc/Kaffer/Minassian      245   + 48m51.443s
14. P2  #46 Oreca     Thiriet/Badey/Martin            243   +   20 Laps
15. P2  #43 Morgan    Gachnang/Mailleux/Lombard       241   +   22 Laps
16. P2  #38 Zytek     Dolan/Turvey/Luhr               240   +   23 Laps
17. P2  #48 Oreca     Hartley/Chandhok/Patterson      239   +   24 Laps
18. P2  #33 HPD       Tucker/Franchitti/Briscoe       238   +   25 Laps
19. GTP #99 Aston     Makowiecki/Senna/Bell           237   +   26 Laps
20. P2  #47 Morgan    Imperatori/Howson/Tung          237   +    3.197s
21. GTP #91 Porsche   Bergmeister/Pilet/Bernhard      237   + 2m32.722s
22. GTP #97 Aston     Mucke/Turner/Dumbreck           237   + 2m44.332s
23. GTP #92 Porsche   Lieb/Richard Lietz/Dumas        237   + 2m44.760s
24. P2  #36 Alpine    Ragues/Panciatici/Gommendy      236   +   27 Laps
25. P2  #34 Oreca     Frey/Niederhauser/Bleekemolen   236   + 4m57.754s
26. GTP #51 Ferrari   Bruni/Fisichella/Malucelli      235   +   28 Laps
27. GTP #71 Ferrari   Beretta/Kobayashi/Vilander      235   + 4m49.944s
28. GTP #74 Corvette  Gavin/Milner/Westbrook          234   +   29 Laps
29. GTP #73 Corvette  Garcia/Magnussen/Taylor         233   +   30 Laps
30. GTA #76 Porsche   Narac/Vernay/Bourret            230   +   33 Laps
31. GTA #55 Ferrari   Perazzini/O'Young/Case          230   + 4m56.604s
32. GTP #53 SRT       Farnbacher/Goossens/Dalziel     229   +   34 Laps
33. GTA #77 Porsche   Dempsey/Foster/Long             229   + 2m42.478s
34. P2  #41 Zytek     Rossi/K-Smith/Lux               228   +   35 Laps
35. GTA #61 Ferrari   Gerber/Griffin/Cioci            228   +    9.105s
36. GTA #50 Corvette  Bornhauser/Canal/Taylor         227   +   36 Laps
37. GTA #67 Porsche   Gibon/Milesi/Henzler            226   +   37 Laps
38. GTP #93 SRT       Wittmer/Kendall/Bomarito        226   + 2m10.141s
39. P2  #40 Oreca     Dagoneau/Downs/Younessi         226   + 2m18.443s
40. GTA #96 Aston     Goethe/Campbell-Walter/Hall     226   + 2m29.794s
41. GTP #66 Ferrari   Bertolini/Faisal/Qubaisi        225   +   38 Laps
42. GTA #75 Porsche   Collard/Perrodo/Crubile         224   +   39 Laps
43. GTA #88 Porsche   Ried/Roda/Ruberti               223   +   40 Laps
44. GTP #98 Aston     Dalla Lana/Lamy/Auberlen        221   +   42 Laps
45. GTA #81 Ferrari   Potolicchio/Aguas/Bright        219   +   44 Laps
46. P2  #45 Morgan    Nicolet/Merlin/Mondolot         214   +   49 Laps
47. P2  #39 Lola      Porta/Brandela/Raffin           206   +   57 Laps
48. GTA #70 Corvette  MacNeil/Rodrigues/Dumas         193   +   70 Laps
49. P2  #32 Lotus     Holzer/Kraihamer/Charouz        219   Retired
50. P2  #30 Lola      Mowlem/Burgess/Hirschi          153   Retired
51. GTA #54 Ferrari   Mallegol/Bachelier/Blank        147   Retired
52. GTA #57 Ferrari   Krohn/Jonsson/Mediani           111   Retired
53. P2  #25 Oreca     Graves/Hamilton/Nakano          101   Retired
54. P2  #28 Lola      Giroix/Haezebrouck/Ihara        22    Retired
55. P2  #31 Lotus     Weeda/Rossiter/Bouchut          17    Retired
56. GTA #95 Aston     Simonsen/Nygaard/Poulsen        2     Retired