LM24 H14: Lead battle remains tense as Toyota closes on Audi
| | |
| --- | --- |
| By Jamie O'Leary | Sunday, June 23rd 2013, 03:08 GMT |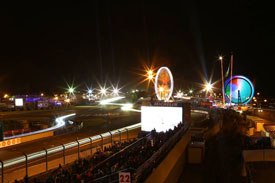 The battle for the lead of the Le Mans 24 Hours remained tense during the race's 14th hour as Sebastien Buemi's Toyota reduced the advantage of Loic Duval's Audi to just over two minutes.
With the safety car pitting 10 minutes into the hour after 60 minutes on track, and the earlier rain easing off, Duval was able to switch from intermediate to slick rubber during his stint and hold his lead as he reached the 200-lap mark.
Buemi was 2m06s behind with Alex Wurz a further 1m10s down the road in the #7 TS030 HYBRID.
Nick Heidfeld had fallen a spot to sixth in his #12 Rebellion Lola-Toyota as a result of five minutes in the pits as the team tried to solve a gearbox problem.
At exactly the same time Jonny Kane spun the #21 Strakka HPD into the gravel at the Ford chicane, albeit not losing his seventh place.
The OAK Racing Morgan-Nissans continued to dispute the lead of LMP2; Martin Plowman in the #35 car ending the hour in front of Olivier Pla's #24 machine by just 18s.
Jota driver Lucas Luhr continued to hold third spot in his Zytek-Nissan with Michael Krumm's #42 Greaves machine next up.
Ludovic Badey's chase of the podium spots was stunted by a spin at the first Mulsanne chicane in his #46 TDS ORECA.
Romain Dumas continued to lead GTE Pro in the #92 Porsche, Frederic Makowiecki 1m20s behind in the #99 Aston Martin and the sister machine of Darren Turner a lap back.
Raymond Narac, aiming for his first Le Mans class win since 2007, leads GTE Am by over a lap in the #76 Imsa Porsche from Darryl O'Young's #55 AF Corse Ferrari.
POSITIONS AFTER 14 HOURS

Pos Cl      Car       Drivers                         Laps  Gap
 1. P1  #2  Audi      Kristensen/McNish/Duval         202   
 2. P1  #8  Toyota    Davidson/Sarrazin/Buemi         202   + 2m06.066s
 3. P1  #7  Toyota    Wurz/Lapierre/Nakajima          201   +     1 Lap
 4. P1  #3  Audi      Gene/Jarvis/di Grassi           201   + 5m07.819s
 5. P1  #13 Lola      Beche/Belicchi/Cheng            196   +    6 Laps
 6. P1  #12 Lola      Prost/Jani/Heidfeld             194   +    8 Laps
 7. P1  #21 HPD       Leventis/Kane/Watts             194   + 3m58.715s
 8. P1  #1  Audi      Lotterer/Treluyer/Fassler       192   +   10 Laps
 9. P2  #35 Morgan    Baguette/Plowman/Gonzalez       191   +   11 Laps
10. P2  #24 Morgan    Pla/Brundle/H Hansson           191   +   18.616s
11. P2  #38 Zytek     Dolan/Turvey/Luhr               190   +   12 Laps
12. P2  #42 Zytek     Krumm/Mardenborough/Ordonez     190   +   28.944s
13. P2  #46 Oreca     Thiriet/Badey/Martin            189   +   13 Laps
14. P2  #26 Oreca     Rusinov/Martin/Conway           189   + 2m08.047s
15. P2  #49 Oreca     P-Companc/Kaffer/Minassian      189   + 3m41.410s
16. P2  #43 Morgan    Gachnang/Mailleux/Lombard       188   +   14 Laps
17. P2  #32 Lotus     Holzer/Kraihamer/Charouz        185   +   17 Laps
18. P2  #33 HPD       Tucker/Franchitti/Briscoe       184   +   18 Laps
19. GTP #92 Porsche   Lieb/Richard Lietz/Dumas        184   + 1m16.665s
20. P2  #48 Oreca     Hartley/Chandhok/Patterson      183   +   19 Laps
21. GTP #99 Aston     Makowiecki/Senna/Bell           183   + 1m23.053s
22. P2  #47 Morgan    Imperatori/Howson/Tung          183   + 3m04.597s
23. GTP #97 Aston     Mucke/Turner/Dumbreck           183   + 3m06.242s
24. GTP #91 Porsche   Bergmeister/Pilet/Bernhard      183   + 4m17.263s
25. GTP #51 Ferrari   Bruni/Fisichella/Malucelli      182   +   20 Laps
26. GTP #71 Ferrari   Beretta/Kobayashi/Vilander      182   + 2m25.932s
27. GTP #74 Corvette  Gavin/Milner/Westbrook          181   +   21 Laps
28. P2  #36 Alpine    Ragues/Panciatici/Gommendy      181   + 1m08.362s
29. P2  #41 Zytek     Rossi/K-Smith/Lux               180   +   22 Laps
30. P2  #34 Oreca     Frey/Niederhauser/Bleekemolen   180   + 1m10.461s
31. GTP #73 Corvette  Garcia/Magnussen/Taylor         180   + 2m22.365s
32. GTP #98 Aston     Dalla Lana/Lamy/Auberlen        180   + 2m27.439s
33. P2  #45 Morgan    Nicolet/Merlin/Mondolot         179   +   23 Laps
34. GTA #76 Porsche   Narac/Vernay/Bourret            178   +   24 Laps
35. GTP #93 SRT       Wittmer/Kendall/Bomarito        177   +   25 Laps
36. GTA #55 Ferrari   Perazzini/O'Young/Case          177   + 1m49.099s
37. GTA #61 Ferrari   Gerber/Griffin/Cioci            177   + 3m12.310s
38. GTA #77 Porsche   Dempsey/Foster/Long             177   + 4m20.308s
39. GTP #53 SRT       Farnbacher/Goossens/Dalziel     176   +   26 Laps
40. GTA #88 Porsche   Ried/Roda/Ruberti               176   +    1.763s
41. GTA #96 Aston     Goethe/Campbell-Walter/Hall     176   + 2m01.436s
42. GTA #75 Porsche   Collard/Perrodo/Crubile         175   +   27 Laps
43. GTA #67 Porsche   Gibon/Milesi/Henzler            175   +   25.464s
44. GTA #50 Corvette  Bornhauser/Canal/Taylor         175   +   35.233s
45. P2  #40 Oreca     Dagoneau/Downs/Younessi         175   + 1m14.752s
46. GTP #66 Ferrari   Bertolini/Faisal/Qubaisi        173   +   29 Laps
47. GTA #81 Ferrari   Potolicchio/Aguas/Bright        166   +   36 Laps
48. P2  #39 Lola      Porta/Brandela/Raffin           159   +   43 Laps
49. GTA #70 Corvette  MacNeil/Rodrigues/Dumas         144   +   58 Laps
50. P2  #30 Lola      Mowlem/Burgess/Hirschi          153       Retired
51. GTA #54 Ferrari   Mallegol/Bachelier/Blank        147       Retired
52. GTA #57 Ferrari   Krohn/Jonsson/Mediani           111       Retired
53. P2  #25 Oreca     Graves/Hamilton/Nakano          101       Retired
54. P2  #28 Lola      Giroix/Haezebrouck/Ihara        22        Retired
55. P2  #31 Lotus     Weeda/Rossiter/Bouchut          17        Retired
56. GTA #95 Aston     Simonsen/Nygaard/Poulsen        2         Retired