Sonoma NASCAR: Jamie McMurray claims pole with new system
| | |
| --- | --- |
| By Connell Sanders Jr | Saturday, June 22nd 2013, 19:23 GMT |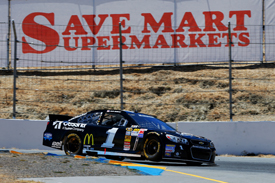 Jamie McMurray took a surprise NASCAR Sprint Cup pole position as its new road course qualifying format made its debut at Sonoma.
NASCAR's top class has abandoned its traditional single-lap format for Sonoma and Watkins Glen this year, instead letting drivers out in five/six-car groups for five minutes at a time.
The slowest drivers from practice go first, building up to the practice pacesetters eight groups later. The times are then combined to set the field.
Earnhardt Ganassi driver McMurray was in the final group, and managed to upstage Friday's fastest man - and last year's Sonoma polesitter - Marcos Ambrose by 0.049 seconds.
The Petty Ford racer was amazed to be that close to McMurray, his engine having briefly cut out as he approached the green flag.
Despite expectations that the track would get faster with each group, it was group five runner Carl Edwards who stayed on provisional pole for a long spell and held on to third.
He shares row two with Roush Fenway team-mate Greg Biffle.
Clint Bowyer completes the top five, followed by Matt Kenseth, Kurt Busch, Joey Logano, Kyle Busch and Jeff Gordon.
Juan Pablo Montoya had been a pole favourite, but only managed 13th, six places ahead of championship leader Jimmie Johnson, whose Hendrick team has been off the pace so far this weekend.
1997 Formula 1 world champion Jacques Villeneuve took 22nd on his return to Cup action with Phoenix Racing.
Pos  Driver              Team/Car                     Time       Gap
 1.  Jamie McMurray      Earnhardt Ganassi Chevrolet  1m15.422s
 2.  Marcos Ambrose      Petty Ford                   1m15.471s  +0.049s
 3.  Carl Edwards        Roush Fenway Ford            1m15.586s  +0.164s
 4.  Greg Biffle         Roush Fenway Ford            1m15.592s  +0.170s
 5.  Clint Bowyer        Waltrip Toyota               1m15.620s  +0.198s
 6.  Matt Kenseth        Roush Fenway Ford            1m15.711s  +0.289s
 7.  Kurt Busch          Furniture Row Chevrolet      1m15.750s  +0.328s
 8.  Joey Logano         Penske Ford                  1m15.788s  +0.366s
 9.  Kyle Busch          Joe Gibbs Toyota             1m15.933s  +0.511s
10.  Jeff Gordon         Hendrick Chevrolet           1m15.943s  +0.521s
11.  Tony Stewart        Stewart-Haas Chevrolet       1m16.010s  +0.588s
12.  Kevin Harvick       Childress Chevrolet          1m16.039s  +0.617s
13.  Juan Pablo Montoya  Earnhardt Ganassi Chevrolet  1m16.039s  +0.617s
14.  Martin Truex Jr     Waltrip Toyota               1m16.200s  +0.778s
15.  Kasey Kahne         Hendrick Chevrolet           1m16.401s  +0.979s
16.  Paul Menard         Childress Chevrolet          1m16.464s  +1.042s
17.  Denny Hamlin        Joe Gibbs Toyota             1m16.465s  +1.043s
18.  Brad Keselowski     Penske Ford                  1m16.470s  +1.048s
19.  Jimmie Johnson      Hendrick Chevrolet           1m16.471s  +1.049s
20.  Bobby Labonte       JTG Daugherty Toyota         1m16.483s  +1.061s
21.  Casey Mears         Germain Ford                 1m16.555s  +1.133s
22.  Jacques Villeneuve  Phoenix Chevrolet            1m16.576s  +1.154s
23.  David Ragan         Front Row Ford               1m16.592s  +1.170s
24.  Boris Said          FAS Lane Ford                1m16.642s  +1.220s
25.  Ron Fellows         Circle Sport Chevrolet       1m16.650s  +1.228s
26.  Dale Earnhardt Jr   Hendrick Chevrolet           1m16.686s  +1.264s
27.  Jeff Burton         Childress Chevrolet          1m16.784s  +1.362s
28.  David Stremme       Swan Toyota                  1m16.819s  +1.397s
29.  David Gilliland     Front Row Ford               1m16.829s  +1.407s
30.  Ryan Newman         Stewart-Haas Chevrolet       1m16.878s  +1.456s
31.  Danica Patrick      Stewart-Haas Chevrolet       1m16.922s  +1.500s
32.  Aric Almirola       Petty Ford                   1m17.001s  +1.579s
33.  Travis Kvapil       BK Toyota                    1m17.169s  +1.747s
34.  Jason Bowles        Waltrip Toyota               1m17.224s  +1.802s*
35.  Josh Wise           Front Row Ford               1m17.240s  +1.818s
36.  Justin Marks        Baldwin Chevrolet            1m17.360s  +1.938s
37.  Ricky Stenhouse Jr  Roush Fenway Ford            1m17.445s  +2.023s
38.  David Reutimann     BK Toyota                    1m17.590s  +2.168s
39.  Alex Kennedy        Humphrey Smith Toyota        1m18.271s  +2.849s
40.  Paulie Harraka      Go Green Ford                1m18.367s  +2.945s
41.  Tomy Drissi         NEMCO Toyota                 1m19.051s  +3.629s
42.  JJ Yeley            Max Q Ford                   1m20.143s  +4.721s
43.  Victor Gonzalez Jr  Baldwin Chevrolet

* Qualifying on behalf of Brian Vickers, who was racing in Nationwide