LM24 H2: Audi opens up decisive advantage over Toyota
| | |
| --- | --- |
| By Sam Tremayne | Saturday, June 22nd 2013, 15:20 GMT |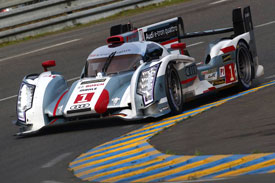 Audi pulled clear of Toyota in the second hour of the 2013 Le Mans 24 Hours, although the latter led for the first time due to its superior fuel economy.
It was the Japanese marque that had stormed up the order in the opening laps of the race, but after a lengthy safety-car period in the first hour the pattern was reversed, with Audi coming to the fore.
Andre Lotterer edged away from the chasing pack in the #1 R18 e-tron quattro, while behind him Toyota men Nicolas Lapierre and Anthony Davidson slipped back behind the sister R18s of Allan McNish and Lucas di Grassi.
Lapierre in particular struggled, falling off the front-running pace and dropping from second to fifth.
Davidson also dropped back, but was still able to briefly move into the lead of the race when all three Audis pitted; with Lapierre following him through into second.
That held for two laps, by which time both Toyotas had pitted and rejoined in fourth and fifth, with Davidson ahead.
For a while he was well-placed to take advantage as McNish and di Grassi squabbled for second, but the pair gradually eased away even as the battled raged.
Twice they swapped position down the Mulsanne straight, before McNish eventually gained the upper hand heading down to the Porsche Curves two-thirds of the way into the second hour.
Fuel economy also shaped the complexion of the LMP2 battle.
Olivier Pla in the #24 Oak Racing Morgan-Nissan led for large swathes of the hour, but team-mate Bertrand Baguette, driving the sister car and Oliver Turvey in the #38 Jota Zytek-Nissan took spells leading when Pla pitted.
Behind them Tom Kimber-Smith moved the #41 Greaves Zytek-Nissan to fourth in class following a fraught battle during which the #47 KGMG and #33 Level 5 machines touched; the former later spinning into the Indianapolis gravel after Alexandre Imperatori collided with Wolf Henzler's GTE Am Porsche.
GTE Pro continues to be led by Darren Turner in the #97 Aston Martin, just ahead of a fantastic battle between Marc Lieb's #92 Manthey Porsche and Rob Bell in the sister #99 Vantage.
The trio were gifted an advantage of around a minute over the chasing pack when they managed to slot in behind the first safety car during the opening hour.
Further down the class order Toni Vilander (AF Corse Ferrari) and Jorg Bergmeister (Porsche) collided in the pits when the former was waved out into the path of his German rival.
Henzler led GTE Am for the majority of the second hour in the #67 Imsa Porsche, despite his moment with Imperatori, although the superior fuel economy of the #61 AF Corse Ferrari means the lead changed hands as the stops cycled.
POSITIONS AFTER TWO HOURS

Pos Cl      Car       Drivers                         Laps  Gap
 1. P1  #1  Audi      Lotterer/Treluyer/Fassler       24    
 2. P1  #3  Audi      Gene/Jarvis/di Grassi           24    +   36.119s
 3. P1  #8  Toyota    Davidson/Sarrazin/Buemi         24    +   39.938s
 4. P1  #7  Toyota    Wurz/Lapierre/Nakajima          24    +   50.951s
 5. P1  #2  Audi      Kristensen/McNish/Duval         24    + 1m16.076s
 6. P1  #12 Lola      Prost/Jani/Heidfeld             24    + 1m26.127s
 7. P1  #13 Lola      Beche/Belicchi/Cheng            24    + 1m57.517s
 8. P1  #21 HPD       Leventis/Kane/Watts             24    + 2m17.561s
 9. P2  #35 Morgan    Baguette/Plowman/Gonzalez       24    + 3m56.641s
10. P2  #24 Morgan    Pla/Brundle/H Hansson           23    +     1 Lap
11. P2  #38 Zytek     Dolan/Turvey/Luhr               23    +   19.928s
12. P2  #41 Zytek     Rossi/K-Smith/Lux               23    +   35.380s
13. P2  #46 Oreca     Thiriet/Badey/Martin            23    +   42.242s
14. P2  #34 Oreca     Frey/Niederhauser/Bleekemolen   23    +   50.175s
15. P2  #33 HPD       Tucker/Franchitti/Briscoe       23    +   51.317s
16. P2  #49 Oreca     P-Companc/Kaffer/Minassian      23    + 1m19.174s
17. P2  #26 Oreca     Rusinov/Martin/Conway           23    + 1m53.329s
18. P2  #36 Alpine    Ragues/Panciatici/Gommendy      23    + 2m12.679s
19. P2  #32 Lotus     Holzer/Kraihamer/Charouz        23    + 2m23.559s
20. P2  #42 Zytek     Krumm/Mardenborough/Ordonez     23    + 2m24.635s
21. P2  #30 Lola      Mowlem/Burgess/Hirschi          23    + 3m11.225s
22. GTP #97 Aston     Mucke/Turner/Dumbreck           23    + 3m17.486s
23. GTP #92 Porsche   Lieb/Richard Lietz/Dumas        23    + 3m24.581s
24. GTP #99 Aston     Makowiecki/Senna/Bell           23    + 3m25.362s
25. P2  #43 Morgan    Gachnang/Mailleux/Lombard       23    + 3m42.510s
26. P2  #45 Morgan    Nicolet/Merlin/Mondolot         22    +    2 Laps
27. P2  #47 Morgan    Imperatori/Howson/Tung          22    +   39.454s
28. GTP #51 Ferrari   Bruni/Fisichella/Malucelli      22    + 1m20.110s
29. GTP #91 Porsche   Bergmeister/Pilet/Bernhard      22    + 1m25.708s
30. GTP #71 Ferrari   Beretta/Kobayashi/Vilander      22    + 1m27.966s
31. GTP #98 Aston     Dalla Lana/Lamy/Auberlen        22    + 1m35.914s
32. GTP #74 Corvette  Gavin/Milner/Westbrook          22    + 1m45.269s
33. GTA #61 Ferrari   Gerber/Griffin/Cioci            22    + 2m00.743s
34. GTP #73 Corvette  Garcia/Magnussen/Taylor         22    + 2m09.187s
35. GTA #67 Porsche   Gibon/Milesi/Henzler            22    + 2m16.645s
36. P2  #48 Oreca     Hartley/Chandhok/Patterson      22    + 2m17.048s
37. GTP #53 SRT       Farnbacher/Goossens/Dalziel     22    + 2m28.602s
38. GTA #55 Ferrari   Perazzini/O'Young/Case          22    + 2m34.255s
39. GTA #75 Porsche   Collard/Perrodo/Crubile         22    + 2m43.989s
40. GTA #57 Ferrari   Krohn/Jonsson/Mediani           22    + 2m45.778s
41. GTP #93 SRT       Wittmer/Kendall/Bomarito        22    + 2m46.593s
42. P2  #39 Lola      Porta/Brandela/Raffin           22    + 2m50.368s
43. GTA #77 Porsche   Dempsey/Foster/Long             22    + 3m11.594s
44. GTP #66 Ferrari   Bertolini/Faisal/Qubaisi        22    + 3m12.753s
45. GTA #76 Porsche   Narac/Vernay/Bourret            22    + 3m37.773s
46. GTA #88 Porsche   Ried/Roda/Ruberti               22    + 3m57.170s
47. GTA #50 Corvette  Bornhauser/Canal/Taylor         22    + 4m39.144s
48. P2  #40 Oreca     Dagoneau/Downs/Younessi         21    +    3 Laps
49. GTA #81 Ferrari   Potolicchio/Aguas/Bright        21    + 1m45.655s
50. GTA #54 Ferrari   Mallegol/Bachelier/Blank        21    + 2m57.046s
51. GTA #96 Aston     Goethe/Campbell-Walter/Hall     21    + 3m38.978s
52. GTA #70 Corvette  MacNeil/Rodrigues/Dumas         21    + 6m07.973s
53. P2  #25 Oreca     Graves/Hamilton/Nakano          19    +    5 Laps
54. P2  #28 Lola      Giroix/Haezebrouck/Ihara        16    +    8 Laps
55. P2  #31 Lotus     Weeda/Rossiter/Bouchut          16    + 13m21.907s
56. GTA #95 Aston     Simonsen/Nygaard/Poulsen        2     Retired