LM24 H1: Audi leads from resurgent Toyotas, safety car out for crash
| | |
| --- | --- |
| By Jamie O'Leary | Saturday, June 22nd 2013, 14:05 GMT |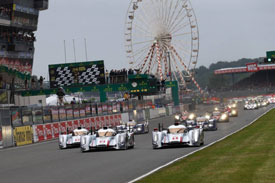 Audi's Andre Lotterer led Nicolas Lapierre's Toyota at the end of an opening hour of the Le Mans 24 Hours that was largely run under safety car conditions due to a heavy crash for Allan Simonsen's Aston Martin.
Simonsen had been leading the GTE Am class when he spun into the barriers at Tertre Rouge on lap four.
With the #95 car coming to rest in the middle of the track, and a large hole being made in the outside barrier, the safety car was scrambled and Simonsen removed in an ambulance after initially being tended to trackside.
The extensive repairs needed to the barriers meant that the safety car was still on track as the 60-minute mark was reached.
Lotterer had initially grabbed the lead from Allan McNish as the pair of Audis crossed the line to start the race; Lapierre needing only two corners before moving into the top three at Lucas di Grassi's expense.
The Frenchman then relieved McNish of second on the run into Mulsanne chicane, only to be repassed on the following straight.
After finally making the place his own he set after Lotterer and was right on his tail when the safety car was called following Simonsen's crash.
Anthony Davidson, driving the #8 TS030 HYBRID, held third with Audi pair McNish and di Grassi next up.
The best of the non-hybrid LMP1 cars was the #12 Rebellion Lola-Toyota of Nick Heidfeld.
LMP2 polesitter Olivier Pla briefly lost the lead of the class to John Martin on the opening lap, but the OAK Morgan-Nissan driver quickly re-established himself ahead of the Australian.
Martin was later forced to pit due to a slow puncture while the sister G-Drive/Delta-ADR ORECA-Nissan of Shinji Nakano spent five laps in the pits having a gear-selection problem rectified.
Brendon Hartley also spent time in the pits early on, with the #48 Murphy Prototypes ORECA-Nissan suffering an electrical problem.
Aston Martin driver Darren Turner led GTE Pro in the #97 Vantage GTE. Marc Lieb's Manthey-run works Porsche and Rob Bell in the second Aston held second and third.
Simonsen's crash left the Porsches of Pat Long (Dempsey Del Piero), Wolf Henzler (Imsa) and Paolo Ruberti (Proton) at the head of the GTE Am class.
A tactical pitstop that involved Ruberti handing over driving duties to Christian Ried, promoted Marco Cioci to third in the class.
POSITIONS AFTER 1 HOUR

Pos Cl      Car       Drivers                         Laps  Gap
 1. P1  #1  Audi      Lotterer/Treluyer/Fassler       9     
 2. P1  #7  Toyota    Wurz/Lapierre/Nakajima          9     +    0.406s
 3. P1  #8  Toyota    Davidson/Sarrazin/Buemi         9     +    1.385s
 4. P1  #2  Audi      Kristensen/McNish/Duval         9     +    2.026s
 5. P1  #3  Audi      Gene/Jarvis/di Grassi           9     +    3.280s
 6. P1  #12 Lola      Prost/Jani/Heidfeld             9     +    5.739s
 7. P1  #13 Lola      Beche/Belicchi/Cheng            9     +    6.857s
 8. P2  #24 Morgan    Pla/Brundle/H Hansson           9     +    8.391s
 9. P2  #47 Morgan    Imperatori/Howson/Tung          9     +    9.256s
10. P1  #21 HPD       Leventis/Kane/Watts             9     +   10.425s
11. P2  #38 Zytek     Dolan/Turvey/Luhr               9     +   11.690s
12. P2  #35 Morgan    Baguette/Plowman/Gonzalez       9     +   12.478s
13. P2  #49 Oreca     P-Companc/Kaffer/Minassian      9     +   14.819s
14. P2  #41 Zytek     Rossi/K-Smith/Lux               9     +   15.857s
15. P2  #42 Zytek     Krumm/Mardenborough/Ordonez     9     +   17.232s
16. P2  #34 Oreca     Frey/Niederhauser/Bleekemolen   9     +   18.026s
17. P2  #43 Morgan    Gachnang/Mailleux/Lombard       9     +   21.831s
18. P2  #32 Lotus     Holzer/Kraihamer/Charouz        9     +   22.917s
19. P2  #33 HPD       Tucker/Franchitti/Briscoe       9     +   23.866s
20. P2  #46 Oreca     Thiriet/Badey/Martin            9     +   24.958s
21. P2  #30 Lola      Mowlem/Burgess/Hirschi          9     +   25.684s
22. P2  #31 Lotus     Weeda/Rossiter/Bouchut          9     +   27.457s
23. P2  #45 Morgan    Nicolet/Merlin/Mondolot         9     +   30.038s
24. P2  #28 Lola      Giroix/Haezebrouck/Ihara        9     +   31.171s
25. GTP #97 Aston     Mucke/Turner/Dumbreck           9     +   32.162s
26. GTP #92 Porsche   Lieb/Richard Lietz/Dumas        9     +   32.957s
27. GTP #99 Aston     Makowiecki/Senna/Bell           9     +   33.614s
28. GTP #91 Porsche   Bergmeister/Pilet/Bernhard      9     + 3m31.612s
29. GTP #51 Ferrari   Bruni/Fisichella/Malucelli      9     + 3m35.579s
30. GTP #74 Corvette  Gavin/Milner/Westbrook          9     + 3m36.461s
31. GTP #73 Corvette  Garcia/Magnussen/Taylor         9     + 3m37.432s
32. GTP #98 Aston     Dalla Lana/Lamy/Auberlen        9     + 3m38.904s
33. GTP #71 Ferrari   Beretta/Kobayashi/Vilander      9     + 3m40.797s
34. GTP #53 SRT       Farnbacher/Goossens/Dalziel     9     + 3m42.605s
35. P2  #40 Oreca     Dagoneau/Downs/Younessi         9     + 3m43.070s
36. GTP #93 SRT       Wittmer/Kendall/Bomarito        9     + 3m43.774s
37. GTA #77 Porsche   Dempsey/Foster/Long             9     + 3m45.366s
38. GTA #67 Porsche   Gibon/Milesi/Henzler            9     + 3m46.035s
39. GTA #61 Ferrari   Gerber/Griffin/Cioci            9     + 3m47.326s
40. GTP #66 Ferrari   Bertolini/Faisal/Qubaisi        9     + 3m48.015s
41. GTA #76 Porsche   Narac/Vernay/Bourret            9     + 3m48.962s
42. GTA #75 Porsche   Collard/Perrodo/Crubile         9     + 3m49.834s
43. GTA #96 Aston     Goethe/Campbell-Walter/Hall     9     + 3m50.853s
44. GTA #55 Ferrari   Perazzini/O'Young/Case          9     + 3m52.260s
45. GTA #57 Ferrari   Krohn/Jonsson/Mediani           9     + 3m55.616s
46. GTA #54 Ferrari   Mallegol/Bachelier/Blank        9     + 3m57.045s
47. P2  #36 Alpine    Ragues/Panciatici/Gommendy      9     + 3m58.426s
48. P2  #26 Oreca     Rusinov/Martin/Conway           9     + 3m58.884s
49. GTA #50 Corvette  Bornhauser/Canal/Taylor         9     + 3m59.431s
50. P2  #39 Lola      Porta/Brandela/Raffin           8     +     1 Lap
51. P2  #48 Oreca     Hartley/Chandhok/Patterson      8     +    1.128s
52. GTA #81 Ferrari   Potolicchio/Aguas/Bright        8     +    3.439s
53. GTA #70 Corvette  MacNeil/Rodrigues/Dumas         8     +    4.623s
54. GTA #88 Porsche   Ried/Roda/Ruberti               8     +    6.187s
55. P2  #25 Oreca     Graves/Hamilton/Nakano          5     +    4 Laps
56. GTA #95 Aston     Simonsen/Nygaard/Poulsen        2     +    7 Laps