Zolder Superstars: Liuzzi and rookie Vanthoor top practice
| | |
| --- | --- |
| By Andrew van Leeuwen | Saturday, June 22nd 2013, 10:22 GMT |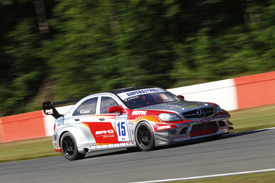 Tonio Liuzzi and Laurens Vanthoor shared the spoils across the two Superstars International Series free practice sessions at Zolder.
Liuzzi's Romeo Ferraris Mercedes set the fastest time of the morning, a 1m37.736s effort launching him to the top of the timesheets just a few minutes from the end of free practice two.
But the surprise of the morning was Audi Sport Italia RS5 driver Vanthoor. On his debut in the series, the hometown boy used his local knowledge to full effect, setting the fastest time in practice one before going second fastest in the second session.
Solaris Chevrolet's Francesco Sini left his run late in the second session, emerging inside the last seven minutes to jump straight to the top of the times. His 1m38.415s wound up being good enough for third, after he had just snuck into the top 10 in opening practice.
Raffaele Giammaria also rapidly improved between sessions. Having not raced since the season finale at Pergusa last season (where he won both races), the CAAL Racing Mercedes driver went fourth quickest in practice two, having been just eighth in the first session.
Renaud Kuppens was another Belgian driver was another to effectively use local knowledge, setting the seventh best time in the first session, before improving to sixth in practice two in the Scuderia Giudici BMW.
Somewhat surprisingly, Gianni Morbidelli was forced to play second fiddle to his team-mate Vanthoor in both sessions. While the veteran was quick enough for second in in the first session, he was just seventh in second practice, exactly half a second behind the swift young Belgian.
Practice one:

Pos  Driver               Team/Car           Time       Gap
 1.  Laurens Vanthoor     Audi Italia        1m38.617s
 2.  Gianni Morbidelli    Audi Italia        1m39.024s  +0.407s
 3.  Tonio Liuzzi         Ferraris Mercedes  1m39.153s  +0.536s
 4.  Luigi Ferrara        Roma Mercedes      1m39.485s  +0.868s
 5.  Thomas Biagi         Ferraris Mercedes  1m39.693s  +1.076s
 6.  Max Mugelli          Dinamic BMW        1m39.852s  +1.235s
 7.  Renaud Kuppens       Giudici BMW        1m40.043s  +1.426s
 8.  Raffaele Giammaria   CAAL Mercedes      1m40.486s  +1.869s
 9.  Nicola Larini        Petri Porsche      1m40.495s  +1.878s
10.  Francesco Sini       Solaris Chevrolet  1m40.767s  +2.150s
11.  Giovanni Berton      Dinamic BMW        1m40.869s  +2.252s
12.  Mimmo Schiattarella  Solaris Chevrolet  1m41.051s  +2.434s
13.  Andrea Bacci         CAAL Mercedes      1m41.561s  +2.944s
14.  Mauro Trentin        Dinamic BMW        1m41.697s  +3.080s
15.  Gianni Giudici       Giudici BMW        1m42.415s  +3.798s
16.  Fabrizio Giovanardi  Petri Porsche      1m42.585s  +3.968s
17.  Roberto Benedetti    RC Cadillac        1m42.978s  +4.361s
18.  Marco Cassara        Roma Mercedes      1m44.276s  +5.659s

Practice two:

Pos  Driver               Team/Car           Time       Gap
 1.  Tonio Liuzzi         Ferraris Mercedes  1m37.736s
 2.  Laurens Vanthoor     Audi Italia        1m38.288s  +0.552s
 3.  Francesco Sini       Solaris Chevrolet  1m38.415s  +0.679s
 4.  Raffaele Giammaria   CAAL Mercedes      1m38.431s  +0.695s
 5.  Nicola Larini        Petri Porsche      1m38.716s  +0.980s
 6.  Renaud Kuppens       Giudici BMW        1m38.722s  +0.986s
 7.  Gianni Morbidelli    Audi Italia        1m38.788s  +1.052s
 8.  Fabrizio Giovanardi  Petri Porsche      1m39.147s  +1.411s
 9.  Max Mugelli          Dinamic BMW        1m39.556s  +1.820s
10.  Andrea Bacci         CAAL Mercedes      1m40.138s  +2.402s
11.  Roberto Benedetti    RC Cadillac        1m41.018s  +3.282s
12.  Giovanni Berton      Dinamic BMW        1m41.139s  +3.403s
13.  Mauro Trentin        Dinamic BMW        1m41.901s  +4.165s
14.  Marco Cassara        Roma Mercedes      1m42.118s  +4.382s
15.  Mimmo Schiattarella  Solaris Chevrolet  1m42.324s  +4.588s
16.  Gianni Giudici       Giudici BMW        1m42.392s  +4.656s
17.  Thomas Biagi         Ferraris Mercedes
18.  Luigi Ferrara        Roma Mercedes