Le Mans 24 Hours: Toyota's Sarrazin doubts Audi can sustain pace
| | |
| --- | --- |
| By Jamie O'Leary | Friday, June 21st 2013, 18:29 GMT |
Toyota has 'no idea' whether Audi has already shown its hand at the Le Mans 24 Hours, according to driver Stephane Sarrazin.
The Frenchman qualified the #8 TS030 HYBRID he shares with Anthony Davidson and Sebastien Buemi fourth and best of the non-Audis, but was over four seconds off Loic Duval's pole time.
He believes that Audi's lockout of the front three positions on the grid was as a result of a lot of laps with qualifying set-ups.

Full Le Mans 24 Hours coverage on AUTOSPORT
While Sarrazin is well aware of the race speed that the Toyota will be able to run, he believes Audi could be forced to slacken its pace for long periods of the race.
"We've done enough laps in all conditions here, and also in the endurance tests, to know exactly where we are," Sarrazin told AUTOSPORT.
"The question mark is them [Audi]. The cars are smoking a lot when they accelerate.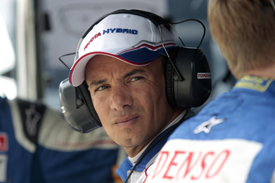 "I spent five years with Peugeot [driving turbodiesels]. When you smoke like they did yesterday, that means they are burning a lot of fuel. I don't think they can do that in the race. It will be interesting."
Toyota claimed before final qualifying on Thursday that its petrol-hybrid car could potentially complete 12 laps on a single tank of fuel while the diesel-hybrid Audi R18 e-tron quattro is likely to need fuel every 10 laps.
Sarrazin believes that several factors, including this, will have a bearing on how close the race between the two manufacturers turns out to be.
"I have never seen Audi so fast on one lap before," he added. "What we know though is that we have a good car with a very nice balance.
"We know from testing that we can run a longer stint than them. It will be an interesting race."