Webber says his future at Red Bull is largely up to him
| | |
| --- | --- |
| | Thursday, June 20th 2013, 08:34 GMT |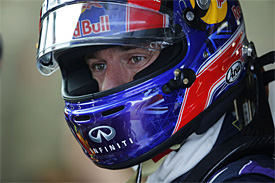 Mark Webber says it will be largely up to him whether he stays on at Red Bull into the 2014 Formula 1 season.
Amid growing speculation over the identity of Sebastian Vettel's team-mate next year, with Kimi Raikkonen strongly linked to Webber's seat, the Australian said he did not feel under threat.
"The ball is pretty firmly in my court, which is nice," Webber said in an interview with Australia's Sky Sports Radio station.
"I have to of course continue to keep driving well, otherwise then that ball will go out of your court and other people will roll into that seat because they'll probably be more attractive to a team like Red Bull."
Webber said he would talk directly to Red Bull's overall chief Dietrich Mateschitz about his future.
"The relationship with Dietrich Mateschitz is very good," said Webber.
"And I'll continue to be in touch with him on where my thinking is at, where my energy levels are, and where my motivation is for still operating at this level.
"I'm not taking it lightly, I'm very, very driven and focused and I don't trivialise how important it is for me to operate at this level. I love doing it."
Webber added that he was in no hurry to make his mind up over 2014.
"I've got some big decisions to make, but not shortly, I don't think," he said.
"I still need to have a bit more time, and we can leave it reasonably late, I think."
The 36-year-old has driven for Red Bull since 2007.