Audi not dismissing Toyota Le Mans 24 Hours threat - Oliver Jarvis
| | |
| --- | --- |
| By Gary Watkins | Tuesday, June 18th 2013, 18:57 GMT |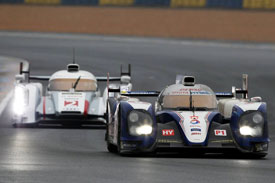 Audi is not going into this weekend's Le Mans 24 Hours believing that Toyota will fail to offer a challenge, according to Oliver Jarvis.
The Audi driver believes that the results of the first two rounds of the World Endurance Championship and the Le Mans test day earlier this month did not produce conclusive evidence that the German manufacturer's R18 e-tron quattro has a performance advantage.
Jarvis, who is making his third Le Mans start this year in the #3 Audi alongside Marc Gene and Lucas di Grassi, said: "Everyone else is saying that Toyota is out of it, but that's not how we are thinking."

AUTOSPORT'S 2013 Le Mans 24 Hours special
He suggested that the big performance differential between the solo Le Mans-spec Audi and the 2013 Toyota TS030 HYBRID in qualifying at Spa was not representative of the cars' respective race pace.
"We have been quick in qualifying when the tyres were new, but sportscar racing has nothing to do with qualifying," he explained.
"They appear not to be able to get the peak out of the tyre, but it looked like they were better than us in terms of wear over the race at Spa.
"The Toyota looks like it comes alive in the race."
Jarvis also suggested that the Toyota's ability to go further on a tank of fuel in the Silverstone and Spa WEC races could prove crucial.
"If they go one lap longer, then we have to go five or six tenths quicker a lap to make up for that," he continued.
"If they go two laps longer, that's 1.2 seconds."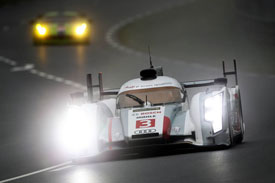 The results of the Le Mans Test Day the weekend before last were equally inconclusive even though the fastest Audi was five seconds quicker than the best Toyota, according to Jarvis.
He pointed out that the fastest of the Audis undertook a qualifying-lap simulation in the hands of Loic Duval.
"Loic went for a qualifying run, whereas we don't think the Toyotas did," said Jarvis.
"He also got a clear lap, which can be worth three or four seconds around Le Mans."