Nico Hulkenberg patient over winning Formula 1 car
| | |
| --- | --- |
| By Edd Straw and Pablo Elizalde | Friday, June 14th 2013, 12:20 GMT |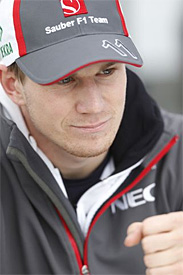 Nico Hulkenberg says he has to be patient while he waits for a winning Formula 1 car, after a frustrating first part of the season with Sauber.
The German driver switched from Force India to the Swiss squad for this year, after the Hinwil-based team enjoyed one of its strongest seasons in 2012.
This year, however, Sauber has been unable to match the performance level of last year, and Hulkenberg has scored just five points in seven races.
While the highly-rated Hulkenberg admits the situation is frustrating, he is aware that he needs to remain calm and wait patiently to get a competitive car.
"If you see other people it's very few guys who come in and right away are in a winning car," said Hulkenberg.
"I know Jenson [Button] was in Honda for many years, and also not being able to show his ability because the car wasn't good enough for him.
"Sometimes that is what happens but of course as a driver you always wish and love to have a car which allows you to show what you can do and perform really well but you have to be patient."
Hulkenberg's old team Force India is enjoying a strong season, having outscored Sauber by 46 points in the first seven races.
The German has not scored points since the Chinese Grand Prix in April. While he admits it is not easy to cope with the situation, he remains confident Sauber can turn its fortunes around.
"It is tough," he added. "It didn't work as expected but, that's life.
"We just have to keep our heads down and focus on the current situation trying to improve the car, make it faster.
"There's still the second half of the season then we have to get more points here and there.
"We still have to prove that we can improve the car and make the step,
"I'm pretty confident, but how much of a step and how much we can transform this season its still to be seen."