Lewis Hamilton says brake issues his responsibility, not Mercedes'
| | |
| --- | --- |
| By Jonathan Noble | Friday, June 7th 2013, 19:22 GMT |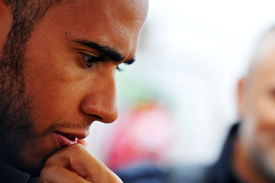 Lewis Hamilton says the onus is on him - and not his Mercedes team - to sort out the brake problems that are hampering his form.
The Mercedes driver has admitted that for the first time in his career he does not have the confidence he needs with the braking characteristics of his car.
And although Hamilton is optimistic that a solution will eventually be found to help him get back on terms with Nico Rosberg, he knows that he has to take full responsibility to get it sorted.
"I have never in my life had any brake problems, even since I was five years old when I first drove a car," said Hamilton.
"I have never had a brake issue in confidence with the brakes. This is the first time I have had that experience. It definitely catches you a little bit off guard."
When asked if it was a matter of him adapting to the brakes, or the team changing them to suit him better, he said: "I can change them if I want or I can just get used to them. I just want go grab hold of it [the situation] and do the job.
"I just need to practice. I will sort it; you will see when I sort it."
Hamilton said that getting the brakes to his liking had taken some time at McLaren, and that the process of getting things perfect was a complicated one.
"When you are braking it is all about feel through your foot and through your boot," he said.
"It is all about the stiffness of the pedals, the modulation; it is about the use and retardation of the brakes. It is the reaction of the car when you hit the brakes, and it is the viewpoint you have when you hit the brakes.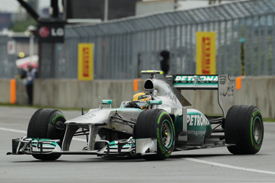 "It is so many different things that give you that confidence. And what we had before [at McLaren], we worked on it for a long time and we got it right and it was the same for six years. It is a little bit different here and we are working on it."
Hamilton's brake issues are dominating his thoughts at the moment, but he denied that he was getting down about the situation.
"I don't have a downbeat nature. I am just here to do a job," he said. "I don't need to mess around. I don't have to walk around being all happy and doolally. I am here to do a job. I am just focused."