Montoya sure oval NASCAR victory will come
| | |
| --- | --- |
| By Sam Tremayne | Wednesday, June 5th 2013, 15:28 GMT |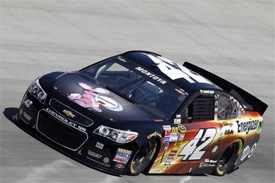 Juan Pablo Montoya is confident he can end his wait for a breakthrough NASCAR Sprint Cup oval victory.
The Colombian was leading until three laps to go at Dover, when Tony Stewart managed to slip by and demote him into second.
That followed a similar near-miss at Richmond, where he lead heading into the final 10 laps, only for a late caution to eradicate his advantage. Forced to pit for new rubber, he restarted sixth and eventually fought back to fourth.
Montoya, whose two Cup wins have come on road courses at Sonoma and Watkins Glen, says a conviction he can end his oval drought overrode the disappointment of once again having victory snatched away late on.
"I thought it was pretty good, to be honest," Montoya said of his Dover race. "We unloaded really well and we did everything right: we had good strategy, good calls, made the car better and we were patient.
"It's a shame, there at the end, it was way too loose and I just couldn't hold Tony off.
"I've said this before: you have got to start running in top-fives, top-10s, to be able to get wins, to give yourself a shot.
"We gave ourselves a good chance, just the car was a little bit too much of a handful there at the end.
"We got two top fives in about a month, [both] near misses. I think the wins are coming."
Montoya credited his recent upturn in performances - after an 18 race absence, he has now finished in the top eight in three of the last five races - to an improving understanding with crew chief Chris Heroy.
"When we started, it was hard because he had a certain mentality [about] the way the car had to be set up," Montoya said.
"I was like, you don't get it, if you set it up like that and I can't drive it, it doesn't matter how good a base set up it is.
"You've got to give me something that I can drive and be comfortable and hustle the car.
"It took a little bit of time, but now I think we are clicking really well and we have been getting good results every week and that is awesome."