| | |
| --- | --- |
| Valentino Rossi says first-lap crash with Bautista a racing incident | |
| | |
| --- | --- |
| By Sam Tremayne | Monday, June 3rd 2013, 10:41 GMT |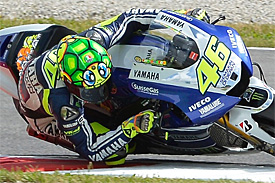 Valentino Rossi believes his first-lap crash with Alvaro Bautista in his home MotoGP race at Mugello was ultimately a racing incident.
The Italian had lost ground from his third-row grid slot and found himself alongside Bautista, on the outside line, heading into Turn 3, Poggia Secco.
Bautista had surged around the outside of the previous left-hander, and as he came across for a better line into Poggia Secco he and Rossi made contact.
Both men were flung into the tyre barrier as a result, retiring after just two corners of the grand prix.
Rossi said Bautista had moved across into him, but accepted that the move was accidental rather than overly-aggressive.
"I was on outside of Alvaro, and I think Alvaro opened the throttle a bit to close the line so he didn't lose position, but I was already in front so he just came to me," Rossi explained.
"He says he didn't see me - that's possible.
"It's a pity because it's Mugello. We [could have done] a good race because we have a good pace, [and the] morning [warm-up] was not so bad.
"I could have fought for a good result but it's like this, its racing."
Bautista said he had been unaware Rossi was alongside him in what he dubbed a 'strange' crash.
"I just did the first chicane, the left corner and when I changed direction I just found Valentino's bike and crashed," he said.
"It was very strange because I didn't see him, I just felt his bike hitting me."
The crash was investigated and both riders were called to race direction, but it was deemed a racing incident.
"Valentino and I have watched the incident back together in Race Direction," Bautista added, "and it was just a racing incident that leaves us both with a bitter taste in the mouth, but neither of us is to blame."